Saint-Saëns: Violin Sonatas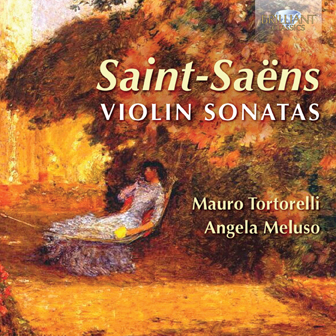 Composer
Camille Saint-Saëns
Artist
Mauro Tortorelli violin
Angela Meluso piano
Format
1 CD
Cat. number
94848
EAN code
5028421948485
Release
November 2014
About this release
Although sometimes disregarded as a conservative composer, looking back at a time when other composers were looking to the future, Saint-Saëns's output towards the end of his life actually remained highly original. His music for violin and piano is no exception. An experienced traveller, Saint-Saëns was inspired by his voyages in East Asia, particularly China, and these exotic elements come to the fore in Triptyque Op.136, the 'almost sonata', which was the last of the composer's major works for violin and piano. The three sections, Prémice, Vision congolaise and Joyeuseté, are a tribute to the composer's fascination with the East, a popular topic in France at the time. The earlier works, the two violin sonatas and Berceuse, or 'lullaby', are also less indicative of Saint-Saëns's conservatism than many would believe. Indeed, the listener is treated to a variety of innovations, such as frequent cross-accents in the second sonata and the rapid changes of metre that appear in various phrases in the first sonata. It is true, though, that Saint-Saëns refused to allow his output to be engulfed by the Wagnerian tradition gathering pace in Germany, and this means that his music remains characteristically and unabashedly French.

Mauro Tortorelli and Angela Meluso have been performing together for years and are experienced interpreters of Saint-Saëns and his contemporaries. Their critically acclaimed recording of Camillo Sivori's works for violin and piano was praised in both Gramophone and Amadeus, with Angela Meluso singled out for her 'lively and responsive' playing. Both performers have their moments to shine in the recordings on this new release, and their lengthy musical partnership leads to a perfect balance between violin and piano.

Other information:
- Recorded in December 2013.
- The violin sonatas by Saint-Saëns are not standard repertoire, and yet they fully deserve to be played more frequenty: they radiate that typically French esprit, charm and brilliance for which Saint-Saëns is noted, they are effective and challenging concert pieces with immediate public appeal.
- This new recording presents both the violin sonatas, and two shorter works for violin and piano: the Tryptique Op. 136, in which the composer serves exquisite "chinoiseries" and the lovely Berceuse Op. 38.
- Excellent playing of high technical and musical level by Mauro Tortorelli and Angela Meluso, who already recorded extensively, their Naxos recording of violin works by Sivori was highly praised in the press.
- Liner notes on the music and artist biographies in the booklet.
Track list
Disk 1
Violin Sonata No. 1 in D Minor, Op. 75: I. Allegro agitato –

Violin Sonata No. 1 in D Minor, Op. 75: II. Adagio

Violin Sonata No. 1 in D Minor, Op. 75: III. Allegretto moderato –

Violin Sonata No. 1 in D Minor, Op. 75: IV. Allegro molto

Berceuse in B-Flat, Op. 38

Violin Sonata No. 2 in E-Flat, Op. 102: I. Poco allegro più tosto moderato

Violin Sonata No. 2 in E-Flat, Op. 102: II. Scherzo: Vivace

Violin Sonata No. 2 in E-Flat, Op. 102: III. Andante

Violin Sonata No. 2 in E-Flat, Op. 102: IV. Allegro grazioso, non presto

Triptyque, Op. 136: I. Prémice

Triptyque, Op. 136: II. Vision congolaise

Triptyque, Op. 136: III. Joyeuseté