Beethoven: Violin Concerto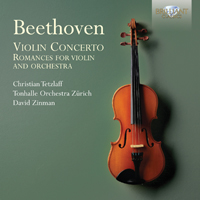 Composer
Ludwig van Beethoven
Artist
Christian Tetzlaf violin
Tonhalle Orchestra Zurich
David Zinman conductor
Format
1 CD
Cat. number
94857
EAN code
5028421948577
Release
February 2015
About this release
Beethoven's Violin Concerto is one of the best‐loved works in the instrument's repertoire, so it is surprising that it was not particularly well received after its premiere in 1806, perhaps because Beethoven finished the violin part so late that his colleague, the eminent violinist Franz Clement, had to sight read parts of it! Thanks to its revival in 1844, with performances by Joseph Joachim – who was only 12 years old at the time – under the baton of Mendelssohn, the concerto came to enjoy the admiration and renown that it undoubtedly deserves. From its highly unusual opening – just four beats on the timpani – through the expansive first movement, the beautifully serene Larghetto, and the genial and dance like finale, Beethoven's Violin Concerto has enchanted countless great violinists and audiences alike over the years.
Christian Tetzlaff – hailed by The New York Times as "a bold artist with an instinctive feel for the wild side in music" – has a special affinity with this concerto and presents a unique interpretation here that emphasizes the light hearted nature of the work, avoiding the excessive sentimentality of some other performances. Beethoven also transcribed the Violin Concerto for the piano, and Tetzlaff has transcribed Beethoven's original piano cadenzas – which he believes fit much better with the harmonic structure and overall concept of the work – for the violin. The Violin Concerto is complemented by Beethoven's lyrical and elegant Romances, also performed by Christian Tetzlaff.
Beethoven's only Violin Concerto, masterwork and one of the most frequently performed concertos of all times.
Excellent performance by Christian Tetzlaff ("a bold artist with an instinctive feel for the wild side of music" New York Times), who wrote his own cadenzas, based on Beethoven's cadenzas from his transcription for piano and orchestra of the Violin Concerto.
The Zurich Tonhalle Orchestra conducted by David Zinman are celebrated for their Beethoven interpretations, their Symphony cycle has won many international record prizes.
Also includes the two Romances for Violin and Orchestra.
Track list
Disk 1
Violin Concerto in D Major, Op. 61: I. Allegro non troppo

Violin Concerto in D Major, Op. 61: II. Larghetto

Violin Concerto in D Major, Op. 61: III. Rondo

Romance for Violin and Orchestra No. 1 in G Major, Op. 40: I. Adagio – Allegro con brio

Romance for Violin and Orchestra No. 2 in F Major, Op. 50: I. Adagio cantabile