Ysaÿe: Sonatas for Solo Violin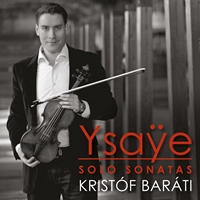 | | |
| --- | --- |
| Composer | Eugène Ysaye |
| Artist | Kristóf Barati violin |
| Format | 1 CD |
| Cat. number | 94678 |
| EAN code | 5028421946788 |
| Release | July 2013 |
About this release
Born in 1858, the Belgian Eugène Ysaÿe was one of the great violinists of his generation, a soloist-conductor who travelled throughout Europe giving concerts and who was regularly called upon by some of the most famous composers of his time to perform their works – such names include César Franck and Claude Debussy.

Aside from his busy concert schedule, Ysaÿe also found success as a composer, thus following the tradition of compatriot virtuosos Hubert Léonard, C.-A. de Bériot and Henry Vieuxtemps. His acquaintance with the French school of composers led his music to take on a passionate, improvisatory character, one that is clearly discernible in his Six Sonatas Op.27 for the solo violin – the subject of this engaging release. Dedicated to the greatest violinists of his era (No.1 to Joseph Szigeti, No.2 to Jacques Thibaud, and so on), the works are a fascinating testament to Ysaÿe's art, their harmonic originality and virtuosity revealing a composer who was intent on writing for posterity and the younger generation of violinists. Prominent characteristics of 20th-century music, such as whole tone scales and quarter tones, abound, and yet Ysaÿe was quick to warn players not to let the technical elements of a composition dominate the musical proceedings: emotional intensity must always prevail.

Hungarian-born Kristóf Baráti is the performer on this release, recorded in the concert hall of the beautiful, recently built Kodály Centre in Pécs. As one of the most talented violinists of his generation, Baráti has appeared with many of the world's major orchestras and collaborated alongside esteemed conductors such as Kurt Masur and Iván Fischer. He plays a 1703 Stradivari violin, the 'Lady Harmsworth', kindly loaned by the Stradivari Society.

Other information:
- Recorded 8–10 January 2013.
- "A talent that comes along once in a decade, perhaps only once in a generation…a miraculous performance..technical perfection.."(Fanfare), "..Luminous immaculate technique..un grand duo…5 Star"(Diapason), "Today's Reference recording.." (Frankfurter Allgemeine): some quotes from reviews of the recording of the complete Beethoven Violin Sonatas by Hungarian violinist Kristóf Baráti and Klára Würtz (Brilliant Classics 94310). His new recording of the Ysaÿe solo sonatas (20th century answer to Bach's solo sonatas) reveal a sharp intellect and a warm heart, expressed in an execution of supreme mastery on his "Lady Harmsworth" Stradivarius.
- An exciting addition to the Baráti discography at Brilliant Classics, following rapidly on from his Beethoven and Bach (Sonatas and Partitas, BC 94667) recordings.
- Recorded in the superb acoustics of the new Concert Hall in Pécs, Hungary.
- Contains notes on the composer, the Kodály Centre in Pécs and an artist biography.
Track list
Disk 1
Sonata No. 1 in G Minor 'Joseph Szigeti', Op. 27: I. Grave. Lento assai

Sonata No. 1 in G Minor 'Joseph Szigeti', Op. 27: II. Fugato. Molto moderato

Sonata No. 1 in G Minor 'Joseph Szigeti', Op. 27: III. Allegretto poco scherzoso. Amabile

Sonata No. 1 in G Minor 'Joseph Szigeti', Op. 27: IV. Finale con brio. Allegro fermo

Sonata No. 2 in A Minor 'Jacques Thibaud', Op. 27: I. Prelude 'Obsession'. Poco vivace

Sonata No. 2 in A Minor 'Jacques Thibaud', Op. 27: II. Malinconia. Poco lento

Sonata No. 2 in A Minor 'Jacques Thibaud', Op. 27: III. Sarabande 'Danse des Ombres'

Sonata No. 2 in A Minor 'Jacques Thibaud', Op. 27: IV. Les furies: Allegro furioso

Sonata No. 3 in D Minor 'George Enescu', Op. 27: Ballade. Lento molto sostenuto – Allegro in tempo giusto e con bravura

Sonata No. 4 in E Minor 'Fritz Kreisler', Op. 27: I. Allemanda. Lento maestoso

Sonata No. 4 in E Minor 'Fritz Kreisler', Op. 27: II. Sarabande. Quasi lento

Sonata No. 4 in E Minor 'Fritz Kreisler', Op. 27: III. Finale. Presto ma non troppo

Sonata No. 5 in G Major 'Mathieu Crickboom', Op. 27: I. l'Aurore. Lento assai

Sonata No. 5 in G Major 'Mathieu Crickboom', Op. 27: II. Danse rustique. Allegro giocoso molto moderato

Sonata No. 6 in E Major 'Manuel Quiroga', Op. 27: Allegro giusto non troppo vivo