Weep & Rejoice, Music for the Holy Week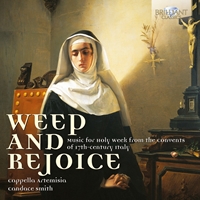 Download booklet
Composer
Aquilino Coppini, Alessandro Della Ciaia, Agostino Soderini, Andrea Rota, Chiara Margarita Cozzolani, Claudia Francesca Rusca, Domenico Massenzio, Giovanni Antonio Grossi, Giulio Cesare Arresti, Giovanni Battista Strata, Lucrezia Orsina Vizana, Lorenzo Agnelli, Maurizio Cazzati, Maria Xaveria Perucona, Rosa Giacinta Badalla, Tiburzio Massaino
Artist
Cappella Artemisia
Candace Smith conductor
Format
1 CD
Cat. number
94638
EAN code
5028421946382
Release
February 2014
About this release
This disc brings together a collection of vocal works from 17th-century Italian convents – music that is given another dimension thanks to the fact that its primary function was to aid worship. Led by the liturgy, the pieces were often based on prayers of celebration or lamentation, both of which feature prominently in the emotional rollercoaster that is Holy Week (the last week of Lent and the last week before Easter).

The works in this collection were written by a variety of composers – some dedicating their compositions to the nuns (incidentally, one of the most fascinating mysteries surrounding convent repertoire is the fact that these pieces often contain parts for tenor and bass voices – the nuns often resorted to numerous solutions to supplant the lack of male voices, including transposition of lower voices or entire pieces or the use of instruments) and numerous pieces written by the nuns themselves – such as Rosa Giacinta Badalla's affecting Silentio. Several of the works combine voices with instrumental forces such as the viola da gamba, lirone, and baroque guitar. They are all performed by the acclaimed all-female ensemble Cappella Artimisia, founded in 1991 and which has received critical and popular praise both for the rarity and originality of its repertoire.

Other information:
- A fascinating collection of vocal works which were written for use during the Holy Week (the week preceding Easter) in Italian convents in the 17th century, recorded in the convent of Santa Margherita in Bologna.
- Apart from liturgical works connected with the Holy Week this programme presents compositions by Italian composers and by the nuns which express the specific emotions of this important period in the Liturgical year: from the bewailing of the crucified Christ on Good Friday to the ecstatic joy of the resurrection on Easter Day.
- Sung with true feeling and devotion by the female choir Cappella Artimisia and a rich instrumental ensemble of Viola da Gamba, harp, cello, guitar, harpsichord, lirone, organ and traverse flutes.
- The organist plays the 1712 Traeri church organ built by Traeri in 1712 (restored by Marco Fratti in 1991–92), Convent of Santa Margherita, Bologna.
- Booklet contains extensive liner notes. The sung texts are available by clicking 'DOWNLOAD BOOKLET' on this page.
Track list
Disk 1
Messa solenne: O vos omnes (Venice 1599)

Sacri concerti: Adoramus te, Christe (Milan 1630)

Ecco Silvio colei: Sacred contrafactum. Qui pependit in Cruce (Milan 1607)

Componimenti Musicali: O magnum mysterium (from (Venice 1623)

Canti delle Monache: Lamentione di Geremia (Bologna 1670)

Lamentationi sagre e motetti: Lamentatione Seconda. Feria Quinta (Venice 1650)

Harmonia d'affetti devoti: Dialogo delle due Mariæ (Venice 1655)

Cantate Morali e Spirituali: Madrigale al Crocifisso (Bologna 1659)

Secondo Libro de Motteti: O vos omnes (Venice 1638)

Adoramus te, Christe (Ms. M.D.C. BUSTA 41, 9)

Sacrae cantiones: Dic nobis, Maria (Milan 1598)

Sacri cantus: Congratulamini mihi omnes (Venice 1580)

Motetti: Silentio (Venice 1684)

Motectorum liber primus: Alleluia, haec dies quam fecit Dominus (Milan 1588)

Messe: Quid mihi est in Caelo (Venice 1663)

Concerti sacri: Dialogo. Ave mater dilectissima (Venice 1642)

Sacri concerti: Canzone francese seconda (Milan 1630)

Arie di musica: Risorto hoggi è'il Signore (Genoa, 1610)

Sacri mottetti: Alleluia – Surrexit Pastor (Rome 1631)

Sacri concerti dei motetti: Cessate tympana (Milan 1675)