Vivaldi: La Cetra 12 Violin Concertos, Op.9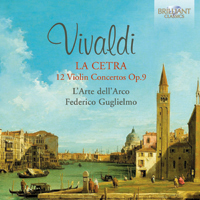 Composer
Antonio Vivaldi
Artist
L'Arte dell'Arco
Federico Guglielmo violin & concertmaster
Format
2 CD
Cat. number
95046
EAN code
5028421950464
Release
June 2016
About this release
Federico Guglielmo and his superb ensemble L'Arte dell'Arco return with more Vivaldi delights, this time treating us to La cetra, a collection of 12 concertos. Most are for violin solo but one includes a second solo violin. Additionally, there is the fascinating inclusion of two concertos 'con violin scordato' – literally, a violin wrongly tuned; not an uncommon practice at the time. The collection, dedicated to Charles VI, Holy Roman Emperor, is called 'la cetra' after a cittern, or lyre. Not only does this indicate something of the sparkling string playing in the solo parts but it was also associated with the Hapsburg coat of arms, a nod to the dedicatee of the collection.

Although not as well known as some of Vivaldi's other collections, such as La stravaganza or Il cimento dell'armonia e dell'inventione, La cetra still has much to offer the listener. Vivaldi's writing is as strong as in his other sets, as he moves into his late style. Not as adventurous as Op.8, he is nevertheless eclectic; some of the fast movements seem to be influenced by vocal lines, as the return to the tonic after a brief modulation occurs abruptly, similar to a da capo aria. The slow movements contain some vibrant cantabile moments. The collection as a whole foreshadows the Classical period; the pizzicato section of the Concerto No.10 would also be utilised by Haydn in his symphonies.

L'Arte dell'Arco is distinguished by its small size, with just one or two players per part. This allows for the transparency Vivaldi intended; each line has its moment, while the solo violin soars confidently above. Guglielmo is an experienced performer of Vivaldi's works; his complete collection of the Prete Rosso's Opp.1–12 was released on Brilliant Classics in February 2016 (BC95200).

A new instalment of Guglielmo's recording cycle of the complete Opus number 1-12 by Vivaldi: the 12 violin concertos Op. 9, known as "La Cetra", dedicated to Charles VI, the holy Roman Emperor of the Hapsburg empire.
As in the other concerto cycles "L'Estro Armonico", "La Stravaganza" and the 4 Seasons, these concertos abound in virtuoso writing for the soloist and brilliant melodic invention, in vocal italianate style, foreboding the classical style of the first Viennese School.
The Vivaldi cycle by L'Arte dell'Arco and violinist/conductor Federico Guglielmo is considered one of the most exciting since years: "Infectious joy, improvisatory flair and an instinct for Vivaldi's language" (BBC 3), "technically impressive and musically engaging" (Musicweb), "Begeisterend..Elan und schäumende Spielfreude" (Klassik.com).
Track list
Disk 1
Violin Concerto No. 1 in C Major, RV 181a: I. Allegro

Violin Concerto No. 1 in C Major, RV 181a: II. Largo

Violin Concerto No. 1 in C Major, RV 181a: III. Allegro

Violin Concerto No. 5 in A Minor, RV 358: I. Adagio – Presto

Violin Concerto No. 5 in A Minor, RV 358: II. Largo

Violin Concerto No. 5 in A Minor, RV 358: III. Allegro

Violin Concerto No. 4 in E Major, RV 263a: I. Allegro non molto

Violin Concerto No. 4 in E Major, RV 263a: II. Largo

Violin Concerto No. 4 in E Major, RV 263a: III. Allegro non molto

Violin Concerto No. 12 in B Minor, RV 391: I. Allegro non molto

Violin Concerto No. 12 in B Minor, RV 391: II. Largo

Violin Concerto No. 12 in B Minor, RV 391: III. Allegro

Violin Concerto No. 3 in G Minor, RV 334: I. Allegro non molto

Violin Concerto No. 3 in G Minor, RV 334: II. Largo

Violin Concerto No. 3 in G Minor, RV 334: III. Allegro non molto

Violin Concerto No. 7 in B-Flat Major, RV 359: I. Allegro

Violin Concerto No. 7 in B-Flat Major, RV 359: II. Largo

Violin Concerto No. 7 in B-Flat Major, RV 359: III. Allegro
Disk 2
Concerto for 2 Violins in B-Flat Major, RV 530: I. Allegro

Concerto for 2 Violins in B-Flat Major, RV 530: II. Largo e spiccato

Concerto for 2 Violins in B-Flat Major, RV 530: III. Allegro

Violin Concerto No. 10 in G Major, RV 300: I. Allegro molto

Violin Concerto No. 10 in G Major, RV 300: II. Largo cantabile

Violin Concerto No. 10 in G Major, RV 300: III. Allegro

Violin Concerto No. 8 in D Minor, RV 238: I. Allegro

Violin Concerto No. 8 in D Minor, RV 238: II. Largo

Violin Concerto No. 8 in D Minor, RV 238: III. Allegro

Violin Concerto No. 2 in A Major, RV 345: I. Allegro

Violin Concerto No. 2 in A Major, RV 345: II. Largo

Violin Concerto No. 2 in A Major, RV 345: III. Allegro

Violin Concerto No. 11 in C Minor, RV 198a: I. Allegro

Violin Concerto No. 11 in C Minor, RV 198a: II. Adagio

Violin Concerto No. 11 in C Minor, RV 198a: III. Allegro

Violin Concerto No. 6 in A Major, RV 348: I. Allegro

Violin Concerto No. 6 in A Major, RV 348: II. Largo

Violin Concerto No. 6 in A Major, RV 348: III. Allegro non molto