Vierne: Spleens et Détresses & Piano Quintet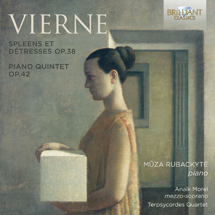 Composer
Louis Vierne
Artist
Mūza Rubackytė piano
Anaïk Morel mezzo soprano
Terpsycordes Quartet
Format
1 CD
Cat. number
95367
EAN code
5028421953670
Release
May 2016
About this release
Louis Vierne (1870-1937) is known as one of the finest French organists of his generation, and the composer of much music for his instrument such as the Carillon de Westminster and organ symphonies designed for the huge, Gothic instruments of which he was a master, but he also left a body of vocal and chamber music. This release – a unique coupling on record – comprises his two most substantial and ambitious works in those genres.

Born blind from cataracts, Vierne had limited sight restored to him as a boy, but in 1915 he began to suffer from glaucoma. At this period he composed the darkly melancholy song-cycle Spleens et détressses, on poems of Paul Verlaine. Although these settings capture the existential ennui implied by that word 'spleen', they are free from the anguished nihilism of previous settings of some of the same texts and any sense of real distress is muted. A real sense of tragic outpouring is reserved for the Piano Quintet, composed some months later after Vierne had received the news of the death of his son Jacques, killed in action. This three-movement work is grim music for grim times, but remarkably contemporary, even prophetic in sound, calling more to mind early Schoenberg than late Brahms, more harmonically knotted than even Roussel or Magnard. Vierne's ambition, magnificently realised, was to produce 'a quintet of vast proportions through every part of which shall flow the spirit of my tender feelings and the tragic destiny of my child. I shall bring this work to a conclusion with energy as fierce and ferocious as my grief is terrible.'

The Lithuanian pianist Mūza Rubackytė has won critical praise for other recordings on Brilliant Classics of late-Romantic French music, including an album of piano music by Vierne (BC95154), and the major chamber (BC93716) and piano works (BC93702) of César Franck. Of the latter album, Classics Today remarked that 'Rubackyte's true feeling for nuance and linear projection emerges at all times... Rubackyte's artistic excellence and Brilliant Classics' rock-bottom price recommend themselves.'

Louis Vierne (1870-1937), having been taught by César Franck and Widor, became a famous organist. His most important post was that of the Notre Dame in Paris, where he was celebrated for his improvisations. As a composer indulged in the post-Wagnerian language of his era: highly complicated counterpoint, dense, chromatic harmonies and an exalted, spiritual atmosphere characterise his works.
This new recording presents his magnificent Piano Quintet, a monumental work (of the same proportions and scope as Cesar Franck's piano quintet) suffused with an overwhelming emotional intensity, caused by the sudden death of the composer's child.
The song cycle "Spléens et et détresses" on poems by Verlaine breathe a mixture of mystical emotion and sensual ardour.
Beautiful performances by mezzo soprano Anaïk Morel, the Quatuor Terpsicordes and the great Lithuanian pianist Mūza Rubackytė, who already recorded successfully a CD with piano music by Louis Vierne (BC 95154), which received 5 stars in Diapason.
Track list
Disk 1
Spleens et détresses, Op. 38: I. Dans l'interminable ennui de la plaine

Spleens et détresses, Op. 38: II. Un grand sommeil noir

Spleens et détresses, Op. 38: III. Spleen

Spleens et détresses, Op. 38: IV. Promenade sentimentale

Spleens et détresses, Op. 38: V. À une femme

Spleens et détresses, Op. 38: VI. Sérénade

Spleens et détresses, Op. 38: VII. Le son du cor

Spleens et détresses, Op. 38: VIII. Sapho

Spleens et détresses, Op. 38: IX. Les faux beaux jours

Spleens et détresses, Op. 38: X. Marine

Piano Quintet in C Minor, Op. 42: I. Poco lento – Moderato

Piano Quintet in C Minor, Op. 42: II. Larghetto sostenuto

Piano Quintet in C Minor, Op. 42: III. Maestoso - Allegro molto risoluto