Viardot: Mélodies, Chopin Mazurkas and other Songs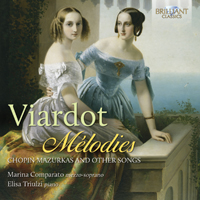 Download booklet
Composer
Pauline Viardot Garcia
Artist
Marina Comparato mezzo soprano
Elisa Triulzi piano
Format
1 CD
Cat. number
94615
EAN code
5028421946153
Release
May 2014
About this release
Daughter of the famous tenor García, himself a favourite of Gioachino Rossini, Pauline Viardot was originally destined to become a pianist (and was at one time tutored by Liszt) before the deaths of her father and singer-sister saw her re-trained as a mezzo-soprano by her mother. In 1839 she made her operatic debut in London, subsequently achieving renown on the concert and operatic stages of Great Britain, Germany and Russia in particular. Among her admirers in St Petersburg was the young Ivan Turgenev, later to become the best-known author of his country in Europe and North America.

Viardot's place in the history books is not down to vocal prowess alone, for she was also a keen composer, writing in various genres and languages throughout her adult life. Unsurprisingly it is the song that dominates the majority of her output, and Viardot also included as part of her oeuvre arrangements for voice of instrumental works – the most famous being those based on Chopin's Mazurkas, which we know she performed in concert together with the composer at least one occasion. In addition to the Canzonetta de Concert, now thought to be based on a string quartet by Roman Hoffstetter, the release includes the 10 mélodies par Pauline Viardot – her second collection of étrennes (then-fashionable New Year presents for music lovers) in which she explores rhythmic and other elements of verse, mainly by French poets unknown today. Viardot never forgot her Spanish roots, however, as 'Caña española' and Madrid (No.5 from her 1887 album) attest. Figures with whom her illustrious career brought her into contact are also acknowledged – Meyerbeer and Berlioz are among the dedicatees in 10 mélodies.

At hand to perform these works are Italian mezzo-soprano Marina Comparato – who made her debut under Claudio Abbado and has since performed at many of the world's leading opera houses – and her accompanist Elisa Triulzi, a graduate of the Guido Cantelli Conservatoire and much of whose work is dedicated to the art of répétiteuring. The release is a delightful testament to the talented and lively scene of female composition during the Romantic era.

Other information:
- Recorded: December 2012, Auditorium Matteo d'Acquasparta, Acquasparta,Terni, Italy.
- Pauline Viardot (1821-1910) was one of the most celebrated, cosmopolitan artists of the 19th century. Daughter of the famous tenor Garcia (favourite tenor of Rossini) and sister of Maria Malibran (the most famous soprano of her time) she travelled Europe as an opera singer, maintained a passionate relationship with the Russian writer Ivan Turgenyev, and held legendary "salons" in Paris, frequented by George Sand, De Musset, Rossini, Chopin, Berlioz and many others.
- As a composer she wrote a fine body of "lieder", several of which are based on Chopin's Mazurkas (which she performed with the composer at the piano). This CD presents a substantial selection of these delightful songs.
- Beautifully sung by mezzo-soprano Marina Comparato, who made her debut under Claudio Abbado, and has performed in the world's foremost opera houses.
- Booklet includes comprehensive notes on the composer and music. Artist biographies also included.
- Sung texts available on this page soon.
Track list
Disk 1
12 Mazurkas: I. Seize ans (Arr. Viardot)

12 Mazurkas: II. Aime-moi (Arr. Viardot)

12 Mazurkas: III. Plainte d'amour (Arr. Viardot)

12 Mazurkas: IV. Coquette (Arr. Viardot)

12 Mazurkas: V. L'Oiselet (Arr. Viardot)

12 Mazurkas: VI. Séparation (Arr. Viardot)

12 Mazurkas: VII. La Fête (Arr. Viardot)

12 Mazurkas: VIII. Faible coeur (Arr. Viardot)

12 Mazurkas: IX. La jeune fille (Arr. Viardot)

12 Mazurkas: X. Berceuse (Arr. Viardot)

12 Mazurkas: XI. La Danse (Arr. Viardot)

12 Mazurkas: XII. La Beauté (Arr. Viardot)

Six mélodies: V. Madrid

Canzonetta de Concert (arr. Viardot)

Album de Chant pour 1850: I. Solitude (É. Turquety)

Album de Chant pour 1850: II. La petite Chevrière

Album de Chant pour 1850: III. L'Absence (Caña española)

Album de Chant pour 1850: IV. Un jour de printemps (Caprice) (É. Turquety)

Album de Chant pour 1850: V. Villanelle (É. Turquety)

Album de Chant pour 1850: VI. En Mer (G. de Larenaudière)

Album de Chant pour 1850: VII. La Chanson de Loïc (A. Brizeux)

Album de Chant pour 1850: VIII. Marie et Julie (G. de Larenaudière)

Album de Chant pour 1850: IX. La Luciole (G. de Larenaudière)

Album de Chant pour 1850: X. Tarentelle