Vasquez: Gentil Señora Mia, 16th Century Songs and Villancicos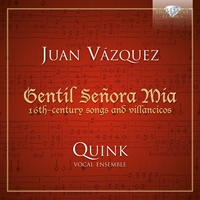 Composer
Juan Vasquez
Artist
Quink Vocal Ensemble
Marjon Strijk, Mariëtte Oelderik sopranos
Elsbeth Gerritsen contralto
Harry van Berne tenor
Kees Jan de Koning bass
Format
1 CD
Cat. number
94711
EAN code
5028421947112
Release
August 2013
About this release
Sacred music occupied an important role in 16th-century Spain, but there is much evidence that secular vocal polyphony held a place in society too. Such music is to be found in the little-known Juan Vázquez's Recopilación which dates from around 1560; as well as canciones and soneto-madrigals, the collection includes various villancicos – the main focus of this recording – then a popular style of song and which Vázquez clearly overhauled through replacing endless repetition with melodic and rhythmic variety. That Vázquez's contribution to the genre was both popular and significant (he wrote over 90 in total, most of which were set to texts by leading Spanish poets of the day) is demonstrated by the many later arrangements of his villancicos for vocal soloists with vihuela accompaniment.

Performing these highly engaging, deftly written works are the Dutch vocal group Quink, founded in 1978 and ranking among the world's best a cappella ensembles. The recording, which can only serve to increase our appreciation for this largely-forgotten composer, underlines the group's astonishing variety of tonal colour – of their Benjamin Britten CD, the New York Times drew attention to Quink's 'elegant phrasing, impeccable intonation and a purity of tone reminiscent of Renaissance madrigals.'

Other information:
- Recordinged on 3–5 November 2009, Waalse Kerk, Amsterdam.
- Little is known about the life of Spanish composer Juan Vasquez (fl. 16th century). A skilled and successful composer in the service of the King of Spain. His compositions are mainly secular, in the form of polyphonic madrigals and 'Villancicos', popular songs set for a vocal ensemble of 4 or 5 voices. The madrigals are on poetic texts by well known poets like Boscan and Garcilaso. The Villancicos are based on folk music and traditional texts, music brimming with joy, happiness and Spanish vitality!
- Superb performances by Dutch vocal group Quink, celebrating their 25th anniversary.
- Booklet contains excellent liner notes, and the sung texts in original language.
Track list
Disk 1
Cancione "Hermosíssima María"

Cancione "Gentil señora mía"

Soneto-madrigal "Gracias al cielo doy"

Villancico "No pensé qu'entre pastores"

Villancico "Quien amores tiene ¿cómo duerme?"

Villancico "Si n'os uviera mirado"

Villancico "Con qué la lavaré"

Villancico "Por una vez"

Cancione "¿Serrana, dónde dormistes?"

Cancione "¡O dulce contemplación!

Cancione "¡A, hermosa, Abrime, cara de rosa!

Villancico "¿Qué sentis, coraçón mío?"

Villancico "Por mi vida, madre"

Villancico "Del rosal sale la rosa"

Villancico "¡Torna, Mingo, a namorarte!"

Villancico "Morenica m'era yo"

Villancico "Qué razón podeys tener"

Soneto-madrigal "Bendito sea el día, punto y ora"

Soneto-madrigal "Amor, virtud y nobles pensamientos

Villancico "Dexa ya tu soledad"