Treasures of the Russian Chamber Music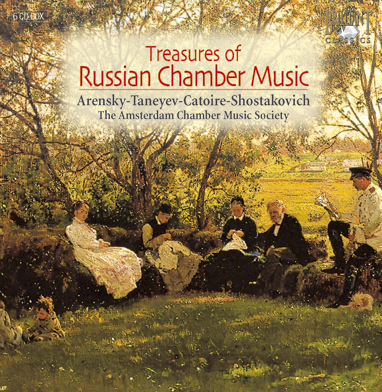 | | |
| --- | --- |
| Composer | Anton Stepanovich Arensky |
| Artist | Jerome Lowenthal, Christiaan Bor, Nathaniel Rosen, Paul Rosenthal, Godfried Hoogeveen |
| Format | 6 CD |
| Cat. number | 93081 |
| EAN code | 5028421930817 |
| Release | April 2006 |
About this release
• Chamber music by Taneyev, Arensky, Shostakovich and Catoire. Chances are that you have heard of the first two composers. But have you ever heard any of their chamber music? And Catoire (1861-1926)? Well, this self-taught composer has been a well-hidden treasure whose small output is rarely performed.

• Russian-born violinist Boris Tsoukkerman introduced Catoire's interesting chamber music to some of his Dutch colleagues. As a result several recordings were made to share their enthusiasm about this repertoire with a wider audience.

• At the time none other than Tchaikovsky admonished Catoire to continue composing. And later on both Arensky and Taneyev advised him on his work. And Rachmaninov too quite liked Catoire's music . So there has to be something worthwhile in it.

• This set of 6 CD's presents works by Catoire in a contemporary perspective juxtaposing them to chamber music by Arensky, Taneyev and Shostakovich. These include 2 piano trios and 2 piano quintet, a string quartet and quintets by the former three. And by Catoire there are a string quartet, a string quintet, a piano quartet and a violin sonata.

• Treasures are well worth exploring!
Track list
Disk 1
Piano Trio in D Minor, Op. 32: Allegro moderato

Piano Trio in D Minor, Op. 32: Scherzo, allegro molto

Piano Trio in D Minor, Op. 32: Elegia, adagio

Piano Trio in D Minor, Op. 32: Finale, allegro non troppo

String Quartet for violin, viola & 2 cellos in A Minor, Op. 35: Moderato

String Quartet for violin, viola & 2 cellos in A Minor, Op. 35: Variations on a theme by Tchaikovsky

String Quartet for violin, viola & 2 cellos in A Minor, Op. 35: Finale, andate sostenuto-allegro moderato
Disk 2
Piano Quintet in G Minor, Op. 30: Introduzione: adagio mesto-allegro patetico

Piano Quintet in G Minor, Op. 30: Scherzo: presto-moderato teneramente

Piano Quintet in G Minor, Op. 30: Largo

Piano Quintet in G Minor, Op. 30: Finale: allegro vivace
Disk 3
String Quintet in G Major, Op. 14: Allegro con spirito

String Quintet in G Major, Op. 14: Vivace con fuoco

String Quintet in G Major, Op. 14: Tema con variazioni: Andantino-poco piu mosso-vivace-vivace alla marcia-allegro-allegrettomoderato-allegro vivace-notturno-introduzione: allegro non troppo-fuga
Disk 4
String Quintet, Op. 16: Allegro moderato

String Quintet, Op. 16: Allegro molto e agitato

String Quintet, Op. 16: Andante non troppo

String Quintet, Op. 16: Allegro impetuoso

Piano Quartet, Op. 31: Moderato - Alllegro moderato

Piano Quartet, Op. 31: Andante

Piano Quartet, Op. 31: Molto allegro
Disk 5
Violin Sonata "Poème", Op. 20

String Quartet, Op. 23: Allegro moderato

String Quartet, Op. 23: Allegro fantastico

String Quartet, Op. 23: Tema con variazioni

String Quartet, Op. 23: Allegro impetuoso
Disk 6
Piano Quintet in G Minor, Op. 57: Prelude: Lento - Poco piu mosso

Piano Quintet in G Minor, Op. 57: Fugue: Adagio

Piano Quintet in G Minor, Op. 57: Scherzo: Allegretto

Piano Quintet in G Minor, Op. 57: Intermezzo: Lento

Piano Quintet in G Minor, Op. 57: Finale: Allegretto

Piano Trio No. 2 in E Minor, Op. 67: Andante – Moderato

Piano Trio No. 2 in E Minor, Op. 67: Allegro non troppo

Piano Trio No. 2 in E Minor, Op. 67: Largo

Piano Trio No. 2 in E Minor, Op. 67: Allegretto