The Romantic Cello (Timora Rosler & Klára Würtz)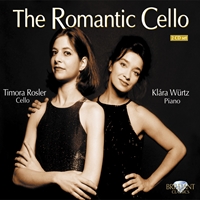 Composer
Various Composers
Artist
Timora Rosler cello
Klára Würtz piano
Format
2 CD
Cat. number
99758
EAN code
5028421997582
Release
April 2006
About this release
The cello is perhaps the most romantic instrument of all. Its deep and sonorous sound evokes a melancholy and romantic atmosphere, touching a sensitive chord in everybody's soul. Great performances by cellist Timora Rosler, accompanied by pianist Kláre Würtz.
Track list
Disk 1
FRÉDÉRIC CHOPIN: Polonaise Brillante, in C major Op. 3

El paño moruno

Nana (Berceuse)

Canción

Polo

Asturiana

Jota

Prologue: Lent

Sérénade (Modérément animé)

Finale (Animé)

Dialogo

Scherzo-pizzicato

Elegia

Marcia

Moto perpetuo

Rhapsody No. 1 for Violin and Piano, Arranged for Violoncello and Piano: I. Moderato "lassu"

Rhapsody No. 1 for Violin & piano, arranged for violoncello & piano: II. Allegretto moderato "friss"
Disk 2
CAMILLE SAINT-SAËNS: Cello Concerto in A minor Op. 33

GABRIEL FAURÉ: Elégie, Op. 24

MAX BRUCH: Kol Nidrei, Adagio on Hebrew melodies, Op. 47

PYOTR IL'YICH TCHAIKOVSKY: Variations on a Rococo Theme, Op. 33