The Art of Ivry Gitlis, Violin Concertos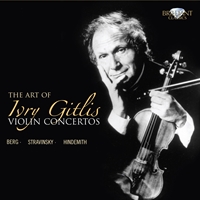 Composer
Alban Berg, Béla Bartók, Felix Mendelssohn, Igor Stravinsky, Jean Sibelius, Paul Hindemith, Piotr Ilyich Tchaikovsky
Artist
Ivry Gitlis violin
Vienna Symphony Orchestra
Heinrich Hollreiser conductor
Format
3 CD
Cat. number
9145
EAN code
5029365914529
Release
June 2010
About this release
Ivry Gitlis was born in Haifa, Israel in 1922. He gave his first recital when he was just nine years old, and was heard by the great Bronislav Huberman, who recommended that he go to Paris to study at the National Conservatory. He won the Premiere Prix at the age of 13, and went on to study with George Enescu, Jacques Thibaud and Carl Flesch. During the Second World War he moved to London, where he was assigned to the British Army artist branch, giving many concerts for Allied troops.

Gitlis has always been a difficult violinist to categorise – maverick, with an unwillingness to conform, he has cultivated a unique style, and is at home in Wieniawski as he is in Xenakis, on prime time TV shows and in the great recital rooms of the world. He is a devoted champion of new music and has premiered works by Maderna and Xenakis. He is also proud of his appearance on The Rolling Stones album 'Rock and Roll Circus'.

Vox made the recordings on this set in the late 1950s and the 60s. The Berg and Stravinsky concertos won a Grand Prix du Disque, and as well as being highly regarded by fellow musicians, were apparently a favourite of Marilyn Monroe.

Other information
- "It seems to me, though I should like to have longer to think about it, that Ivry Gitlis gives the finest performance of both the Bartok works above that I have ever heard" (Gramophone on Bartok, 1955).
- "Ivry Gitlis is a technical master, and he brings to both the Bruch and Sibelius concertos an address that stands them in very good stead…The Sibelius relaxes less often; and indeed Gitlis's attack on it is pursued with an intensity and ferocity that are substantially rewarding in their own right" (Gramophone, 1956).
Track list
Disk 1
Violin Concerto in D Op.35: I. Allegretto moderato

Violin Concerto in D Op.35: II. Canzonetta

Violin Concerto in D Op.35: III. Finale: Allegro – Vivacissimo

Violin Concerto No.1 in G Minor Op.26: I. Allegro moderato

Violin Concerto No.1 in G Minor Op.26: II. Adagio

Violin Concerto No.1 in G Minor Op.26: III. Finale: Allegro energico

Violin Concerto in D Minor Op.47: I. Allegro moderato

Violin Concerto in D Minor Op.47: II. Adagio di molto

Violin Concerto in D Minor Op.47: III. Allegro ma non tanto
Disk 2
Violin Concerto in E Minor Op.64: I. Allegro molto appassionato

Violin Concerto in E Minor Op.64: II. Andante

Violin Concerto in E Minor Op.64: III. Allegretto non troppo

Violin Concerto No.2 Sz112 (1938): I. Allegro non troppo

Violin Concerto No.2 Sz112 (1938): II. Andante tranquillo

Violin Concerto No.2 Sz112 (1938): III. Allegro molto

Sonata for solo violin Sz117 (1944)
Disk 3
Violin Concerto (1935): I. Andante – Allegretto

Violin Concerto (1935): II. Allegro – Adagio

Violin Concerto in D (1940): I. Mäßig bewegter Halbe

Violin Concerto in D (1940): II. Langsam

Violin Concerto in D (1940): III. Lebhaft

Violin Concerto in D (1931): I. Toccata

Violin Concerto in D (1931): II. Aria I

Violin Concerto in D (1931): III. Aria II

Violin Concerto in D (1931): IV. Capriccio