Tchaikovsky: Complete Symphonies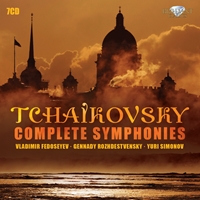 Composer
Piotr Ilyich Tchaikovsky
Artist
Tchaikovsky Symphony Orchestra of Moscow Radio
London Philharmonic Orchestra
Philharmonia Orchestra
London Symphony Orchestra
Kirov Theatre Orchestra
Format
7 CD
Cat. number
94307
EAN code
5028421943077
Release
January 2012
About this release
A superb value set featuring Rozhdestvensky conducting Symphonies Nos. 4–6, Simonov conducting Symphony No.2, and Fedoseyev conducting Nos.1 & 3. Gibson conducts the famous 1812 Overture, and Temirkanov delivers a passionate Romeo and Juliet.

Tchaikovsky's Symphonies Nos. 1–6 and 'Manfred' Symphony (after Byron) encapsulate the composer's struggle with his own creative genius. Both No.1 and No.2 were revised following their initial performances, due to the composer's dissatisfaction with their original states. Despite this, the Symphony No.1 ('Winter Daydreams') is a delightful work, the most optimistic of the six, while the Symphony No.2 ('Little Russian') is unique for its nationalistic edge, although it relies upon Ukrainian folk tunes, not Russian.

The composer was, however, satisfied with the two symphonies that followed, although the Symphony No.3 'Polish' remains the least well known of the cycle, displaying his indebtedness to Western European models, notably Schumann whose Symphony No.3 was also in five movements. Symphony No.4 is generally recognised as Tchaikovsky's first symphonic masterpiece. Written during a time of great stress, its composition offered him an escape from his near breakdown, and he considered it one of his best creations.

Tchaikovsky was less pleased with the outcome of his 5th Symphony. He wrote 'I have written myself out… no ideas, no inclination… That symphony is repellent… it will never please the public'. Despite this, it is the most performed of his symphonies and widely considered to be one of the greatest symphonies of all time. He commenced his Symphony No.6, which was to be his final composition, in 1893; it is a sombre work, of which he wrote 'Without exaggeration, I have put my whole soul into this work'. Within 9 days he was dead – officially from cholera (an unlikely cause of death in the middle and upper classes), which caused rumour to spread that he had, in fact, taken his own life. The 6th subsequently gained the title 'Pathétique'.

This comprehensive set contains performances by some of the great Tchaikovsky interpreters and, in addition to the symphonies, contains the overtures, Capriccio italien and the enduringly popular Marche slave.

Other information:
- 'A first-class new digital recording of Tchaikovsky's Fourth Symphony conducted by Rozhdestvensky… It is a very striking performance, Russian in feeling yet westernized, never going over the top in its emotional fervour… it is a reading that grows on one and the LSO's playing is first rate'. Gramophone review of Symphony No.4, December 1987
- Extensive booklet notes covering each of the works included in the set.
Track list
Disk 1
Symphony No. 1 in G Minor, Op. 13 'Winter dreams': I. Daydreams of a winter journey: Allegro tranquillo

Symphony No. 1 in G Minor, Op. 13 'Winter dreams': II. Land of gloom, land of mist: Adagio cantabile, ma non tanto

Symphony No. 1 in G Minor, Op. 13 'Winter dreams': III. Scherzo: Allegro scherzando giocoso

Symphony No. 1 in G Minor, Op. 13 'Winter dreams': IV. Finale: Andante lugubre - Allegro moderato

1812 Ouverture: Festival Overture in E-Flat, Op. 49
Disk 2
Symphony No. 2 in C Minor, Op. 17 'Little Russian': I. Andante sostenuto – Allegro vivo

Symphony No. 2 in C Minor, Op. 17 'Little Russian': II. Andantino marziale – quasi moderato

Symphony No. 2 in C Minor, Op. 17 'Little Russian': III. Scherzo: Allegro molto vivace

Symphony No. 2 in C Minor, Op. 17 'Little Russian': IV. Finale: Moderato assai

Francesca Da Rimini: Symphonic Fantasia in E Minor after Dante
Disk 3
Symphony No. 3 in D, Op. 29 'Polish': I. introduzione e allegro – Moderato assai (Tempo di marcia funebre) – Allegro brillante

Symphony No. 3 in D, Op. 29 'Polish': II. Alla tedesca – Allegro moderato e semplice

Symphony No. 3 in D, Op. 29 'Polish': III. Andante elegiaco

Symphony No. 3 in D, Op. 29 'Polish': IV. Scherzo: Allegro vivo

Symphony No. 3 in D, Op. 29 'Polish': V. Finale: Allegro con fuoco (Tempo di pollaca)

Hamlet Fantasy Overture for orchestra in F minor, Op. 67a
Disk 4
Symphony No. 4 in F Minor, Op. 36: I. Andante sostenuto – Moderato con anima

Symphony No. 4 in F Minor, Op. 36: II. Andantino in modo di canzona

Symphony No. 4 in F Minor, Op. 36: III. Scherzo: Pizzicato ostinato

Symphony No. 4 in F Minor, Op. 36: IV. Finale: Allegro con fuoco

March slave,, Op. 31
Disk 5
Symphony No. 5 in E Minor, Op. 64: I. Andante – Allegro con anima

Symphony No. 5 in E Minor, Op. 64: II. Andante cantabile con alcuna licenza – Moderato con anima

Symphony No. 5 in E Minor, Op. 64: III. Valse: Allegro moderato

Symphony No. 5 in E Minor, Op. 64: IV. Finale: Andante maestoso – Allegro vivace

Capriccio Italien,, Op. 45
Disk 6
Symphony No. 6 in B Minor, Op. 74 'Pathétique': I. Adagio – Allegro non troppo

Symphony No. 6 in B Minor, Op. 74 'Pathétique': II. Allegro con grazia

Symphony No. 6 in B Minor, Op. 74 'Pathétique': III. Allegro molto vivace

Symphony No. 6 in B Minor, Op. 74 'Pathétique': IV. Finale: Adagio lamentoso – Andante

Overture – The Storm
Disk 7
Manfred Symphony in B Minor, Op. 58: I. Lento lugubre

Manfred Symphony in B Minor, Op. 58: II. Vivace con spirito

Manfred Symphony in B Minor, Op. 58: III. Andante con moto

Manfred Symphony in B Minor, Op. 58: IV. Allegro con fuoco

Romeo and Juliet: Fantasy Overture after Shakespeare