Takemitsu: Spirit Garden, Orchestral Works (EUR)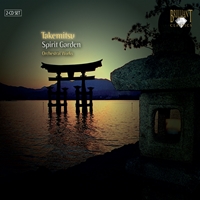 Composer
Toru Takemitsu
Artist
Tokyo Metropolitan Symphony Orchestra
Ryusuke Numajiri conductor
Hiroshi Wakasugi conductor
Format
2 CD
Cat. number
8188
EAN code
5029365818827
Release
April 2006
About this release
This release introduces Japanese composer Toru Takemitsu. This special recording was made in Japan and was supervised by the composer himself.

A great way to get to know this composer. The recorded repertoire covers a period from 1957 (Requiem for Strings) until 1994 (Spirit Garden). Because of his great interest in his own cultural and historical background in some of his music Takemitsu includes Japanese traditional instruments like the shakuhachi, a bamboo flute, in November Steps.

This poetic music is a real blend of Eastern and Western ingredients, both musically and otherwise. For instance, quite a number of pieces by Takemitsu are based on Japanese historical gardens. As such he has truly succeeded in creating something new. This is also the case because even when using western instruments, this composer can position them in unusual ways and come up with unexpected combinations, creating an entirely new perspective.
Track list
Disk 1
Requiem For Strings (1957)

November Steps For Biwa, Shakuhachi And Orchestra (1967)

Far Calls, Coming, Tar! For Violin And Orchestra (1980)

visions For Orchestra (1989) : I - Mystére

visions For Orchestra (1989) : II - Les Yeux Clos
Disk 2
Gémeaux (1972 - 1986) For Oboe, Trombone, 2 Orchestras Et 2 Conductors : I - StrOphe

Gémeaux (1972 - 1986) For Oboe, Trombone, 2 Orchestras Et 2 Conductors : II - Genesis

Gémeaux (1972 - 1986) For Oboe, Trombone, 2 Orchestras Et 2 Conductors : III - Traces

Gémeaux (1972 - 1986) For Oboe, Trombone, 2 Orchestras Et 2 Conductors : IV - AntistrOphe

Gémeaux (1972 - 1986) For Oboe, Trombone, 2 Orchestras Et 2 Conductors : Dream / Window (1985) For Orchestra

Gémeaux (1972 - 1986) For Oboe, Trombone, 2 Orchestras Et 2 Conductors : Spirit Garden (1994) For Orchestra