Schubert: The Complete Symphonies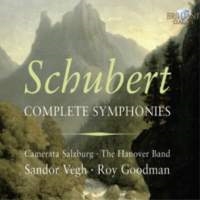 Composer
Franz Schubert
Artist
Camerata Salzburg
Sandor Vegh conductor
Hannover band
Roy Goodman conductor
Format
4 CD
Cat. number
94218
EAN code
5028421942186
Release
June 2011
About this release
All seven of Schubert's completed symphonies - plus the B minor fragment known as the 'Unfinished' - enjoy a popularity now which they haven't always had. Only the twentieth century gave these pieces the recognition they deserved and an appreciation of their true emotional depth. All display his gift for pure and lovely melody, but there are great differences between the restraint of the earlier six symphonies and the last two, where he fully employed Romantic expression. His last symphony, the 'Great' C major Symphony, is both classic and romantic, combining the vitality of the classical period and the melancholy of his personality, the architecture of late 18th century classical music with an innovative and daring approach to structure, harmony and orchestration. He mastered the symphonic form in his own way. This 4-CD set of the complete symphonies contains performances of symphony Nos 1- 4 by The Hanover Band, conducted by Roy Goodman.These are part of their acclaimed cycle, recorded in the warm acoustic of All Saints' Church in Tooting, which was the first ever complete set of Schubert's symphonies performed on historic instruments.
Gramophone hailed the performances as 'striking and exciting", and "consistently bringing out the joy of the young Schubert's inspiration." Symphony Nos 5-6 and Nos 8-9 are performed with polish and vitality by the Camerata Salzburg, directed by the great Hungarian conductor and violinist, Sándor Végh.

Other information:
- "The Salzburg Camerata Academica is a chamber orchestra whose smaller size and clarity of texture serves Végh's interpretati ons well. The qualities that make his conducting, the kind of flexible phrasing and precise dynamics and articulation that one finds in great chamber music playing, but less often in orchestral performances" (Fanfare).
Track list
Disk 1
Symphony No. 1 in D, D. 82: I. Adagio – Allegro vivace

Symphony No. 1 in D, D. 82: II. Andante

Symphony No. 1 in D, D. 82: III. Menuetto & Trio

Symphony No. 1 in D, D. 82: IV. Allegro vivace

Symphony No. 2 in B-Flat, D. 125: I. Largo – Allegro vivace

Symphony No. 2 in B-Flat, D. 125: II. Andante

Symphony No. 2 in B-Flat, D. 125: III. Menuetto & Trio: Allegretto

Symphony No. 2 in B-Flat, D. 125: IV. Presto vivace
Disk 2
Symphony No. 3 in D, D. 200: I. Adagio maestoso – Allegro con brio

Symphony No. 3 in D, D. 200: II. Allegretto

Symphony No. 3 in D, D. 200: III. Menuetto & Trio: Vivace

Symphony No. 3 in D, D. 200: IV. Presto vivace

Symphony No. 4 in C Minor 'Tragic', D. 417: I. Adagio molto – Allegro vivace

Symphony No. 4 in C Minor 'Tragic', D. 417: II Andante

Symphony No. 4 in C Minor 'Tragic', D. 417: III. Menuetto & Trio

Symphony No. 4 in C Minor 'Tragic', D. 417: IV. Allegro
Disk 3
Symphony No. 5 in B-Flat, D. 485: I. Allegro

Symphony No. 5 in B-Flat, D. 485: II. Andante con moto

Symphony No. 5 in B-Flat, D. 485: III. Menuetto: Allegro molto

Symphony No. 5 in B-Flat, D. 485: IV. Allegro vivace

Symphony No. 6 in C, D. 589: I. Adagio – Allegro

Symphony No. 6 in C, D. 589: II. Andante

Symphony No. 6 in C, D. 589: III. Scherzo. Presto

Symphony No. 6 in C, D. 589: IV. Allegro moderato
Disk 4
Symphony No. 8 in B Minor 'Unfinished', D. 759: I. Allegro moderato

Symphony No. 8 in B Minor 'Unfinished', D. 759: II. Andante con moto

Symphony No. 9 in C 'The Great', D. 944: I. Andante – Allegro ma non troppo – Più moto

Symphony No. 9 in C 'The Great', D. 944: II. Andante con moto

Symphony No. 9 in C 'The Great', D. 944: III. Scherzo. Allegro vivace

Symphony No. 9 in C 'The Great', D. 944: IV. Finale. Allegro vivace
"Error parsing XSLT file: GetRelatedReleases.xslt