Rimsky-Korsakov: The Golden Cockerel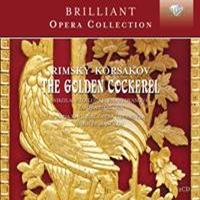 Composer
Nikolai Andreyevich Rimsky-Korsakov
Artist
Sofia National Opera Orchestra
Dimiter Manolov conductor
Format
2 CD
Cat. number
94431
EAN code
5028421944319
Release
December 2012
About this release
Nikolay Andreyevich Rimsky-Korsakov showed musical promise as a child, but the pursuit of a Naval career meant that much of his grounding in musical theory was gained in between various tours of duty. Although best known in the Western world for his nationalist orchestral works, Rimsky-Korsakov brought Russian opera to the fore, so that by the end of his life, the genre was flourishing.

The Golden Cockerel, written between 15 October 1906 and 29 August 1907, was inspired by Alexander Pushkin's tale and caused concern among the Russian authorities, with the story detailing the murder of a Tsar and providing a critique of the power associated with Tsarism. This predictably led to trouble with the censor, which demanded that the prologue, epilogue and fourteen lines of the libretto should be cut; Rimsky-Korsakov refused and the work was permitted to only appear in print. At the centre of the opera is the juxtaposition of two of the characters and their respective musical language: that of the rigid marches demonstrating the power of King Dodon and the delicate, ethereal chromaticism of the Queen of Shemaka, designed to sound other-worldly. This recording includes the opera in full, containing none of the cuts demanded by the censor.

Of this 1985 recording by the Sofia National Opera, conducted by Dimiter Manolov, BBC Music Magazine wrote that 'the famous 19-minute coloratura show-piece … is beautifully encompassed' by Elena Stoyanova, who sings the role of the Queen of Shemakha. The role of King Dodon is sung by Hungarian bass Nikolai Stoilov.

Other information:
- Recorded in 1985.
- Nikolai Rimsky-Korsakov is one of the most important Russian composers of romantic opera. His operas, often on themes taken from Russian folklore and fairy tales, abound in colourful and atmospheric scenes, with just the right tinge of spicy Russian melodic flavours.
- The Golden Cockerel, based on a tale by Pushkin, was censored by the Russian authorities, accused of hidden political motives. This performance offers the complete, uncut version of the opera, one of Rimsky's finest and best known.
Excellent performance by great Bulgarian voices and forces, a superb recording from the Balkanton catalogue.
- The Booklet includes the synopsis of the opera, as well as notes on the composer and the work.
Track list
Disk 1
The Golden Cockerel: Prologue: Introduction: I am the master magician (Astrologer)

The Golden Cockerel: Act 1: The King's monologue: I have summoned you here (King Dodon)

The Golden Cockerel: Act 1: Guidon's plan: Great father (Guidon/King Dodon/Chorus of Boyars)

The Golden Cockerel: Act 1: Afron's plan (King Dodon/Boyars/Afron/Polkan/Guidon)

The Golden Cockerel: Act 1: Hail, Majesty! Sire! (Astrologer) – Oh, that's a fairy tale (King Dodon/The Golden Cockerel)

The Golden Cockerel: Act 1: Cock-a-doodle-do! The coast is clear – The Parrot Scene (The Golden Cockerel/King Dodon/Amelfa)

The Dodon's siesta – Cock-a-doodle-do! Beware! (Chorus of the People/Amelfa/The Golden Cockerel) – Our King! Father of the people! (Polkan/King Dodon/Afron/Chorus of Boyars/Guidon)

The Golden Cockerel: Act 1: King Dodon's dream (The Golden Cockerel/King Dodon/Amelfa/Chorus)

The Golden Cockerel: Act 1: The Cockerel's scene: Cock-a-doodle-do!... Oh! What misfortune! (The Golden Cockerel/Chorus of the People/Polkan/King Dodon)
Disk 2
The Golden Cockerel: Act 2: Soldiers' chorus: The silent night is ehispering fearful things (Chorus of Soldiers) – What terrible sight is this? – Behold, a tent! (King of Dodon/Polkan/Chrous of Soldiers)

The Golden Cockerel: Act 2: The Queen of Shemakha's entrance: Hail, O ray of morning sun (Queen of Shemakha/King of Dodon/Polkan)

The Golden Cockerel: Act 2: Whose heart rich in love (Queen of Shemakha/King Dodon)

The Golden Cockerel: Act 2: Dance of the Queen of Shemakha: At first I shall dance with a lowered veil (Queen of Shemakha/King of Dodon)

The Golden Cockerel: Act 2: Sisters, who limps beside the resplendent beauty? (Chorus of Slaves) – Ho! Polkan! Sound the trumpers in victory (King Dodon/Chorus of Soldiers)

The Golden Cockerel: Act 2: It is terrible, brothers (Chorus of the People/Amelfa)

The Golden Cockerel: Act 2: Who is that stranger standing there? (Queen of Shemakha/King Dodon) – Great King, it is I (Astrologer)

The Golden Cockerel: Act 2: King Dodon's death: Ha, ha, ha! (Queen of Shemakha) – I've beaten him to death (King Dodon/The Golden Cockerel/Chorus of the People)

The Golden Cockerel: Epilogue: There, my story's ended! (Astrologer)