Per Anni Circulum, Gregorian Chant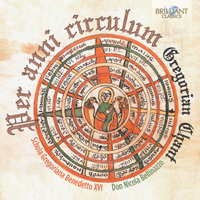 Artist
Schola Gregoriana Benedetto XVI
Don Nicola Bellinazo director
Format
1 CD
Cat. number
95286
EAN code
5028421952864
Release
August 2016
About this release
The soothing sounds of Gregorian chant reverberate from the very beginnings of Christianity to the present day. This timeless music still has the power to move and stir us, giving us a moment to pause and reflect on our busy lives. This release, Per anni circulum, charts a story that moves in full circle: from Advent, to the birth of Jesus Christ, to Passiontide, to his death and resurrection. Each event in the Christian calendar is celebrated or mourned. Holy Week, the most important of the year, starts with an antiphony for Palm Sunday, while the gradual of the Mass, along with three antiphonies and a hymn, accompany the washing of the feet on Maundy Thursday. A responsory for the office of the readings for Good Friday relates to Jesus' death, followed by an introit and Easter Day sequence to mark the joy of resurrection.

Don Nicola Bellinazzo – who combines his work as a conductor alongside his duties as a monk – runs the Schola Gregoriana Benedetto XVI in Bologna, a testament to his commitment to the continuing survival of Gregorian chant. The small group of soloists he conducts are all professional musicians, engaged in instrumental and choral performance. As well as performing, the members of the Schola also attend lessons on Gregorian culture and the genesis of the texts traditionally enacted in the liturgy – this makes for a performance not only highly authentic but also deeply heartfelt.

This new recording of Gregorian Chant presents a journey through the complete Liturgical Year: Advent, Christmas, Lent, Easter and Ordinary Time, the ever-recurring spiritual cycle, caught in the timeless medieval melodies of Gregorian Chant, as it was and as it always will be. Sung with devotion and clear intonation by the Schola Gregoriana Benedetto XVI from Bologna, and recorded in the spacious and warm acoustics of the St. Christina's Church in Bologna.
The booklet contains excellent liner notes as well as the sung texts.

Contains notes about the music in English and Italian.
Contains biographies of the performers.
Contains sung texts in Latin.
Track list
Disk 1
Introit: Ad te levavi

Gradual: Universi

Introit: Populus Sion

Dominus dixit

Trope: Quem quaeritis in praesepio

Introit: Puer natus est

Antiphon: Hosanna filio David

Gradual: Christus factus est

Antiphon: Dominus Jesus

In hoc cognoscent

Mandatum novum

Hymn: Ubi caritas

Responsory: Tenebrae factae sunt

Introit: Resurrexi

Sequence: Victimae paschali laudes

Responsory: Stirps Jesse