Massenet: Ballet Suites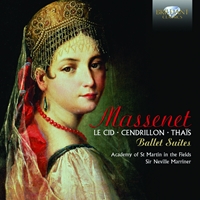 Composer
Jules Massenet
Artist
Academy of St. Martin-in-the-fileds
Sir Neville Marriner conductor
Format
1 CD
Cat. number
94355
EAN code
5028421943558
Release
June 2012
About this release
This CD contains the delightful and colourful suites from Le Cid, Thais and Cendrillon, evoking the atmosphere of the respective stories and fairytales of the operas. Sir Neville Marriner and his Academy of St. Martin in the Fields perfectly capture the beauty, sensuality and drama of this immensely attractive music.
During the mid-19th century, it was traditional for all operas performed in Paris to have a ballet sequence inserted into one of their acts. One of the most prolific and celebrated opera composers of the era was Jules Massenet; this fantastic CD surveys ballet suites taken from three of his most popular works in the genre, all of which were written at the height of his career.
The release begins with one of Massenet's most highly regarded compositions, the Le Cid suite of 1885. Based on the story of the Castilian nobleman Rodrigo, who was responsible for saving Spain through his defeat of the Moors, the work comprises a series of picturesque movements brimming with dance rhythms drawn from different regions, and is followed by the composer's Cendrillon suite – a masterpiece of orchestral writing that draws its material principally from the Act 2 ball scene. In the concluding suite, we move from Cendrillon's fairy-tale enchantment to the spiritual Thaïs, which takes as its basis the tragic legend of a courtesanturned-saint and includes some of the French composer's most sombre music.
Although history has not taken kindly to all of Massenet's operas, the suites heard here have remained enormously popular as concert pieces, testament to their quality and appeal. With Le Cid's inventive use of percussion and Thaïs's religious treatment of the organ, this collection abounds in colourful orchestration that recalls the grandeur of 19th-century Parisian opera. It's an ideal purchase for the Romantic ballet connoisseur.

Other Information:
- Recorded 23–25 November 1994, Church of St Jude on the Hill, London.
- Includes booklet notes, providing an overview of each suite.
Track list
Disk 1
Le Cid: Castillane

Le Cid: Andalouse

Le Cid: Aragonaise

Le Cid: Aubade

Le Cid: Catalane

Le Cid: Madrilène

Le Cid: Navarraise

Cendrillon: Le Sommeil de Cendrillon

Cendrillon: Les Filles de Noblesse

Cendrillon: Menuet de Cendrillon

Cendrillon: Les Tendres Fiances

Cendrillon: Les Mandores

Cendrillon: Le Florentine

Cendrillon: Marche des Princesses

Thaïs: Andante – Allegro vivo – Largo – Allegro moderato – Lento – Presto vivace

Thaïs: Andante cantabile

Thaïs: Scherzetto molto vivace

Thaïs: Allegro moderato – Tres lent

Thaïs: Allegro maes toso

Thaïs: Andante religioso

Thaïs: Allegro vivace – Frenetico