Mandyczewski: Lieder, Gesänge and Waltzes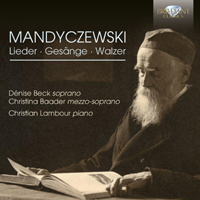 Composer
Eusebius Mandyczewsky
Artist
Christian Lambour
Christina Baader
Format
1 CD
Cat. number
94735
EAN code
5028421947358
Release
December 2014
About this release
Born in Czernowitz (a region now part of Ukraine) and educated in Germany, Eusebius Mandyczewski was a gifted musician best known for his work as a conductor and musicologist, helping Grove to compile a book on Beethoven's symphonies and having a hand in the Schubert Gesamtausgabe, among other examples. As well as his scholarly work, Mandyczewski was also a talented composer. Indeed, his admiration for Schubert, as well as Brahms, a close friend of his, is evident in this assembled collection of Lieder and Gesänge, where the two composers' influences (particularly Schubert's nature‐inspired song tradition) are clearly heard. Also included on this disc are works for piano four hands; 13 sparkling waltzes by Mandyczewski that are brought to life by piano duo Christian Lambour and Gert Hecher. It is only now that Mandyczewski's exceptional talents in composition are beginning to enjoy the attention they deserve, with all six performers on this disc being enthusiastic interpreters of the composer's works. Danish soprano Dénise Beck specialised in Lied studies and is an established performer of this repertoire, having given recitals throughout Europe, including at the world‐famous Musikverein in Vienna. Joined by mezzo‐soprano Christina Baader, praised recently in the German press for her "great commitment and masterful technique", as well as pianist Christian Lambour, who has already released a disc of Mandyczewski's works, this release is a must‐have for any lover of Romantic Lieder looking for new repertoire to explore. Ilia Korol and Lehel Donáth lend excellent support to the soloists, adding beautifully resonant strings to the lyrical melodies.

CD premieres of songs and instrumental music by Mandyczewski!
Eusebius Mandyczewski (born in Ukraine, but lived and worked in Germany) was an important musician, musicologist and publisher/editor in the 19-th century. He was an assistant of the famous Grove, and helped compiling editions of Schubert and Beethoven. A close friend of Johannes Brahms it is no surprise to find a strong influence of his genius friend in Mandyczewski's works. There is a constant lyrical flow in the selection of songs, as presented on this disc, romantic songs in the tradition of Schubert, in Brahmsian colours and harmonies: pure beauty!
Sung with great dedication and love by sopranos Denise Beck and Christina Baader, expertly seconded on the piano by Christian Lambour, playing an instrument from Brahms' time. A real find for adventurous music lovers! Booklet provides excellent liner notes, and rare photographic material.

Other information:
Recorded in 2013 and 2014 at Klavier‐Atelier Gert Hecher, Vienna.
Performed on period instruments.
Notes on the composer and the music.
Rare photos of the composer.
Track list
Disk 1
Wasserstille

Rumänische Lieder, Op. 7, No. 15: Einst

Birkelein

Bitte

Rumänische Lieder, Op. 7, No. 2: Herzenswunsch

Vom heil'gen Nil

Schlehenblüte

Rumänische Lieder, Op. 7, No. 9: Frage

Lang deckte meine Seele

Op. 3, No. 1: Dem aufgehenden Vollmonde

Geleite mich

Rumänische Lieder, Op. 7, No. 3: Maienglöckchen

Frühlingslockung

Geige und Wind

13 Waltzes and Finale

Abend

Op. 3, No. 2: In der Dämmerung