Locatelli: L'arte del violino, Complete Violin Concertos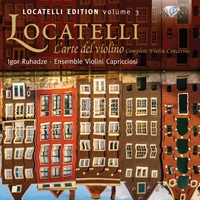 Composer
Pietro Antonio Locatelli
Artist
Ensemble Violini Capriccioso
Igor Ruhadze baroque violin
Format
5 CD
Cat. number
94469
EAN code
5028421944692
Release
November 2013
About this release
Following on from their highly acclaimed recording of Pietro Locatelli's Violin Sonatas (described by Robert Maxham in Fanfare magazine as a '…most enjoyable, most entertaining and, at times, most moving…' collection), Ensemble Violini Capricciosi and Igor Ruhadze here turn their attention to the Italian composer's violin concertos, works that are renowned for comprising some of the greatest technical challenges ever written for the instrument.

14 concertos span the five-disc set, 12 of which were published as part of the infamous L'arte del Violino collection in 1733. Continuing in the Italian Baroque tradition of Vivaldi and Corelli (three movements, fast-slow-fast, with an occasional slow introduction to a fast movement), they harbour a distinctive character of their own, the most unique feature being the inclusion of 24 solo caprices, innovative additions – sometimes as long as the movements to which they belong! – whose cadenzas allow the soloist to indulge in pyrotechnical display and reveal his improvisational abilities. Opportunities for virtuosity aren't just limited to these morsels of experimentation, however; rapid leaps and stratospherically high writing characterise the set as a whole. Locatelli might not exactly be a household name, but it should come as no surprise to hear that in his day he was an international phenomenon – a prodigiously talented violinist who is today considered the founding father of the modern virtuoso style. Long after his death and well into the 19th century, the 24 capriccios continued to be published as well as to appear in violin methods. They were the direct inspiration for Paganini's 24 Caprices, written 70 years later.

Igor Ruhadze studied modern violin at the Moscow Central School of Music before pursuing his growing interest in music of the Baroque period. A pioneer of historically informed performance, he co-founded the Ensemble Violini Capricciosi with the aim of performing mostly virtuosic violin music on instruments from the relevant period. This disc marks the group's third recording for the Locatelli edition series.

Other information:
- Recorded 2012–2012.
- Contains detailed notes on the composer and his music as well as artist/ensemble biographies.
- This new instalment in the Brilliant Classics LOCATELLI EDITION is the most important and auspicious: it contains the complete L'Arte del Violino, the cycle of 12 violin concertos.
- Locatelli's violin concertos are notorious. Written in the usual baroque concerto form, their inventiveness demand an extreme level of virtuosity from the violinist, having to perform the most atrocious acrobatics which clearly foreshadow the pyrotechnics of Paganini. Especially the Capriccii (the solo cadenzas) are near-unplayable, a testimony that Locatelli "was possessed by the devil" , as contemporaries claimed.
- Russian born violinist Igor Ruhadze is fully equipped for this daunting task, having been nurtured in the severe Russian education system, before specialising in "Early Music". Earlier issues in this successful series have won much praise for their commitment, HIP style and high level of instrumental virtuosity.
- Igor Ruhadze plays a David Tecchler violin from Rome (1706).
Track list
Disk 1
Concerto in D Major, Op. 3 No. 1: I. Allegro

Concerto in D Major, Op. 3 No. 1: II. Largo

Concerto in D Major, Op. 3 No. 1: III. Allegro

Concerto in C Minor, Op. 3 No. 2: I. Andante

Concerto in C Minor, Op. 3 No. 2: II. Largo

Concerto in C Minor, Op. 3 No. 2: III. Andante

Concerto in F Major, Op. 3 No. 3: I. Andante

Concerto in F Major, Op. 3 No. 3: II. Largo

Concerto in F Major, Op. 3 No. 3: III. Vivace
Disk 2
Concerto in E Major, Op. 3 No. 4: I. Largo

Concerto in E Major, Op. 3 No. 4: II. Andante

Concerto in E Major, Op. 3 No. 4: III. Largo

Concerto in E Major, Op. 3 No. 4: IV. Andante

Concerto in C Major, Op. 3 No. 5: I. Largo

Concerto in C Major, Op. 3 No. 5: II. Andante

Concerto in C Major, Op. 3 No. 5: III. Adagio

Concerto in C Major, Op. 3 No. 5: IV. Allegro

Concerto in G Minor, Op. 3 No. 6: I. Largo

Concerto in G Minor, Op. 3 No. 6: II. Andante

Concerto in G Minor, Op. 3 No. 6: III. Adagio

Concerto in G Minor, Op. 3 No. 6: IV. Vivace
Disk 3
Concerto in B flat Major, Op. 3 No. 7: I. Andante

Concerto in B flat Major, Op. 3 No. 7: II. Largo

Concerto in B flat Major, Op. 3 No. 7: III. Allegro

Concerto in E Minor, Op. 3 No. 8: I. Andante

Concerto in E Minor, Op. 3 No. 8: II. Largo

Concerto in E Minor, Op. 3 No. 8: III. Allegro

Concerto in G Major, Op. 3 No. 9: I. Allegro

Concerto in G Major, Op. 3 No. 9: II. Largo

Concerto in G Major, Op. 3 No. 9: III. Allegro
Disk 4
Concerto in F Major, Op. 3 No. 10: I. Allegro

Concerto in F Major, Op. 3 No. 10: II. Largo andante

Concerto in F Major, Op. 3 No. 10: III. Andante

Concerto in A Major, Op. 3 No. 11: I. Allegro

Concerto in A Major, Op. 3 No. 11: II. Largo

Concerto in A Major, Op. 3 No. 11: III. Andante

Concerto in D Major, Op. 3 No. 12 "Il labirinto armonico": I. Allegro

Concerto in D Major, Op. 3 No. 12 "Il labirinto armonico": II. Largo – Presto – Adagio

Concerto in D Major, Op. 3 No. 12 "Il labirinto armonico": III. Allegro
Disk 5
Concerto in A Major, Without Major, Opus No.: I. Vivace

Concerto in A Major, Without Major, Opus No.: II. Largo

Concerto in A Major, Without Major, Opus No.: III. Allegro – Andante – Allegro – Andante – Allegro

Concerto in E Major, Without Major, Opus No.: I. Andante

Concerto in E Major, Without Major, Opus No.: II. Largo

Concerto in E Major, Without Major, Opus No.: III. Andante