Liszt: Piano Sonata & 3 Petrarch Sonnets & Légende No 1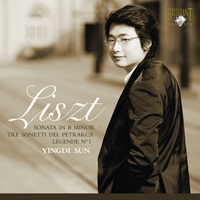 | | |
| --- | --- |
| Composer | Franz Liszt |
| Artist | Yingdi Sun piano |
| Format | 1 CD |
| Cat. number | 93787 |
| EAN code | 5028421937878 |
| Release | January 2009 |
About this release
Liszt's solitary sonata for piano (1851-3) is perhaps the summit of keyboard writing in the romantic period. Taking Beethoven's development of the piano sonata to its logical conclusion, and marrying it with the structure of Schubert's 'Wanderer' Fantasy, Liszt created a towering masterpiece that consists of six sections, divided into sixteen, played without a break. These are interlinked with leitmotivs that develop, fuse together, clash with each other, and disintegrate over the course of the sonata's half-hour span. It is an architectural masterpiece, and one of the most exciting works in the repertoire.

Liszt composed two Legends in 1863, both dedicated to his daughter Cosima. Although originally for orchestra, it is the piano versions that have become the most popular. The one on this CD depicts St Francis's sermon to the birds. It is a delicate and solemn piece, a world away from the turbulent sonata.

The Petrarch Sonnets date from 1838, and were originally for voice and piano. In the versions for solo piano they become songs without words, Liszt vividly capturing the sentiments of the original poem.

Other information:
- Recorded in 2008.
- Yingdi Sun won the prestigious International Franz Liszt Piano Competition in 2005, held in Utrecht. After winning the first prize he has embarked on an extensive tour of the Netherlands, Europe, America, South Africa, China and Indonesia.
- He has performed with many of the world's major orchestras, including the Rotterdam Philharmonic, the Netherlands Radio Symphony Orchestra.
- He was invited by President Hu Jintao to perform in part of the festivities to honour the US President George W Bush during his 2005 visit to China.
Track list
Disk 1
Piano Sonata in B Minor

Sonetto 47 del Petrarca

Sonetto 104 del Petrarca

Sonetto 123 del Petrarca

Légende No.1: St. Francois d'Assise, la prédication aux oiseaux