Liszt & Debussy & Brahms: A portret of Tamas Vasary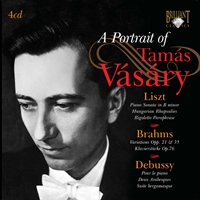 | | |
| --- | --- |
| Composer | Claude Debussy, Franz Liszt, Johannes Brahms |
| Artist | Tamás Vásáry piano |
| Format | 4 CD |
| Cat. number | 93900 |
| EAN code | 5028421939001 |
| Release | June 2009 |
About this release
In 1962 Stephen Plaistow wrote of the Liszt E flat Polonaise on this set that 'the playing of the E major Polonaise is outstanding: it has bravura, exquisite timing and poise, colour, delicacy, plenty of rhythmic character and an air of ebullient pomp that is quite irresistible.' You might expect such ebullience from Vásáry in the music of his fellow-countryman Liszt, especially given his reputatation, cultivated and strengthened over decades, of specialism in a composer whose refined and elusive idiom requires such immersive study to escape the confines of virtuosity and even approach the expressive heart of the novel structures and evanescent textures exhibited by the B minor Sonata and the Légende No.2, of St Francis walking on the water. Such qualities will likely make a fine Debussyan of a pianist, too, and so, we may be unsurprised to learn, from the pages of Gramophone again, that the Suite bergamasque has 'the right blend of chaste gravity and sensuous charm' and Clair de lune 'is a model of style'.

What may come as more of a surprise to those unaware of Vásáry's eminence over half a century now as pianist, conductor and more importantly musician, is the vigorous authority of his Brahms, ideally set off here by the stamping energy of the two comparatively early variation sets of Op.21, the Op.35 Variations and the more heartfelt Klavierstücke Op.76. These recordings are from much later, the digital era indeed, but they reflect the promise felt by Stephen Plaistow, in 1967 this time, that 'As one listens to his playing one senses at all times the intelligence and taste that lie behind it. The future of fine piano-playing seems assured while there are young pianists like him and Vladimir Ashkenazy around with maybe 40 years of playing ahead of them: a splendid thought!

Other information:
- Classic recordings of Romantic piano literature.
- Original booklet notes included.
Track list
Disk 1
Hungarian Rhapsody, S. 244 No. 6 in D-Flat

Valse Impromptu

Consolation, S. 172 No. 2 in E.: Un poco più mosso

Consolation, S. 172 No. 3 in D-Flat: Lento, placido

Concert Paraphrase On Rigoletto, S. 434, After Verdi's Opera

Grande Étude De Paganini, S. 141 No. 3 in G Sharp-Minor, 'La Campanella'

Hungarian Rhapsody, S. 244 No. 15 in A Minor 'Rákóczy March'

Légende, S. 175 No. 2: St. Francis De Paule Walking On The Water

Études d'Exécution Transcendante D'Après Pagannini, S. 140 No. 2 Octaves
Disk 2
Piano Sonata in B Minor

Polonaise No. 2 in E

'Don Juan' Fantasy
Disk 3
Variations On An Original Theme in D, Op. 21 No. 1

Variations on a Hungarian song in D, Op. 21 No. 2

Variations On a Theme by Paganini, Op. 35: Book 1: Thema. Variations I-XIV

Variations On a Theme by Paganini, Op. 35: Book 2: Variation XIII: Un poco più andante

Klavierstück, Op. 76 No. 1: Capriccio in F-Sharp Minor

Klavierstück, Op. 76 No. 2: Capriccio in B Minor

Klavierstück, Op. 76 No. 3: Intermezzo in A-Flat

Klavierstück, Op. 76 No. 4: Intermezzo in B-Flat

Klavierstück, Op. 76 No. 5: Capriccio in C-Sharp Minor

Klavierstück, Op. 76 No. 6: Intermezzo in A

Klavierstück, Op. 76 No. 7: Intermezzo in A Minor

Klavierstück, Op. 76 No. 8: Capriccio in C
Disk 4
Suite Bergamasque: Prélude: Moderato

Suite Bergamasque: Menuet: Andantino

Suite Bergamasque: Clair de lune: Andante très expressif

Suite Bergamasque: Passepied: Allegretto ma non troppo

Danse (Tarentelle Styrienne): Allegretto

Deux Arabesques: Andantino con moto

Deux Arabesques: Allegretto Scherzando

Pour Le Piano: Prélude: Allez animé et très rythmé

Pour Le Piano: Sarabande: Avec une élégance grave et lente

Pour Le Piano: Toccata: vif

La Plus Que Lente (Valse)

L'Isle Joyeuse (Modéré et très souple)

Masques (Très vif et fantasque)