Kodály: Orchestral Music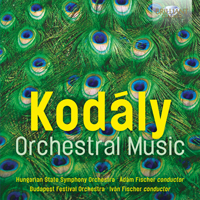 Composer
Zoltán Kodály
Artist
Hungarian State Symphony Orchestra
Adam Fischer conductor
Budapest Festival Orchestra
Ivan Fischer conductor
Format
2 CD
Cat. number
95603
EAN code
5028421956039
Release
December 2017
About this release
The best-known, most colourful orchestral works by the father of modern Hungarian music, in unbeatable native accounts.

'The Hungarian dances presented to the world by Brahms strike the tone of urban Hungary in the 1860s, and are mainly by the composers of the time. The Dances of Marosszék are rooted in an earlier period: they conjure up an image of a Fairyland of the past.' So wrote Zoltán Kodály in the preface to his through-composed rondo-collection of dances, but his point stands for the other works on this compilation. He was a pioneer in bringing genuinely native inflections and timbres to the context of art-music from Hungary.

Relating episodes from the life of a quintessentially Hungarian hero, Háry János now counts as the first national opera of note (even if surpassed internationally a few years later by Duke Bluebeard's Castle), and its music travelled far more widely once Kodály made this orchestral suite inimitably coloured by the twang of the cimbalom. The Psalmus Hungaricus, too, powerfully conjures a sense of national pride, and a nationalism unburdened by bombast, in its progress from the tenor soloist's laments towards a conclusion filled with hope and conviction all the more resonant for its composition in the middle of the feverish 1920s.

Classics Today noted of CD1 that 'There's no question that Ádám Fischer and the Hungarian State Symphony Orchestra know how this music should go and characterize it well. Háry János, in particular, has a number of expressive personal touches in such sections as the Song and Intermezzo that bespeak a long and affectionate acquaintance.' Fanfare praised the 'idiomatic authority' of the Budapest Festival Orchestra's playing on CD2, marshalled with 'shrewd insight' by Iván Fischer: 'colours, too - whether in the moments of dark introspection or in the more peaceful passages - have a rare glow.'

The reissue of a successful Brilliant Classics set: orchestral works by Zoltán Kodály.
Kodály is one of Hungary's foremost composers, together with his compatriot Bela Bartók he collected folk songs in the field, and used them in his works, creating colourful and exhilarating orchestral works, like the popular Marosszék and Galánta Dances, the Peacock Variations and the Háry János suite. Also included is the mighty Psalmus Hungaricus.
Highly idiomatic performances by two Hungarian orchestras: the Hungarian State Symphony Orchestra and the Budapest Festival Orchestra, conducted by two brothers respectively, Ádám and Iván Fischer.
Track list
Disk 1
Háry János, Op. 15: I. Prelude – The Fairy-Tale Begins

Háry János, Op. 15: II. Viennese Musical Clock

Háry János, Op. 15: III. Song

Háry János, Op. 15: IV. Battle and Defeat of Napoleon

Háry János, Op. 15: V. Intermezzo

Háry János, Op. 15: VI. Entrance of the Emperor and his Court

Dances of Galánta

Variations on a Hungarian Folksong "The Peacock"
Disk 2
Psalmus Hungaricus, Op. 13

Dances of Marosszék

Dances of Galánta