Klara Würtz, Super Audio Collection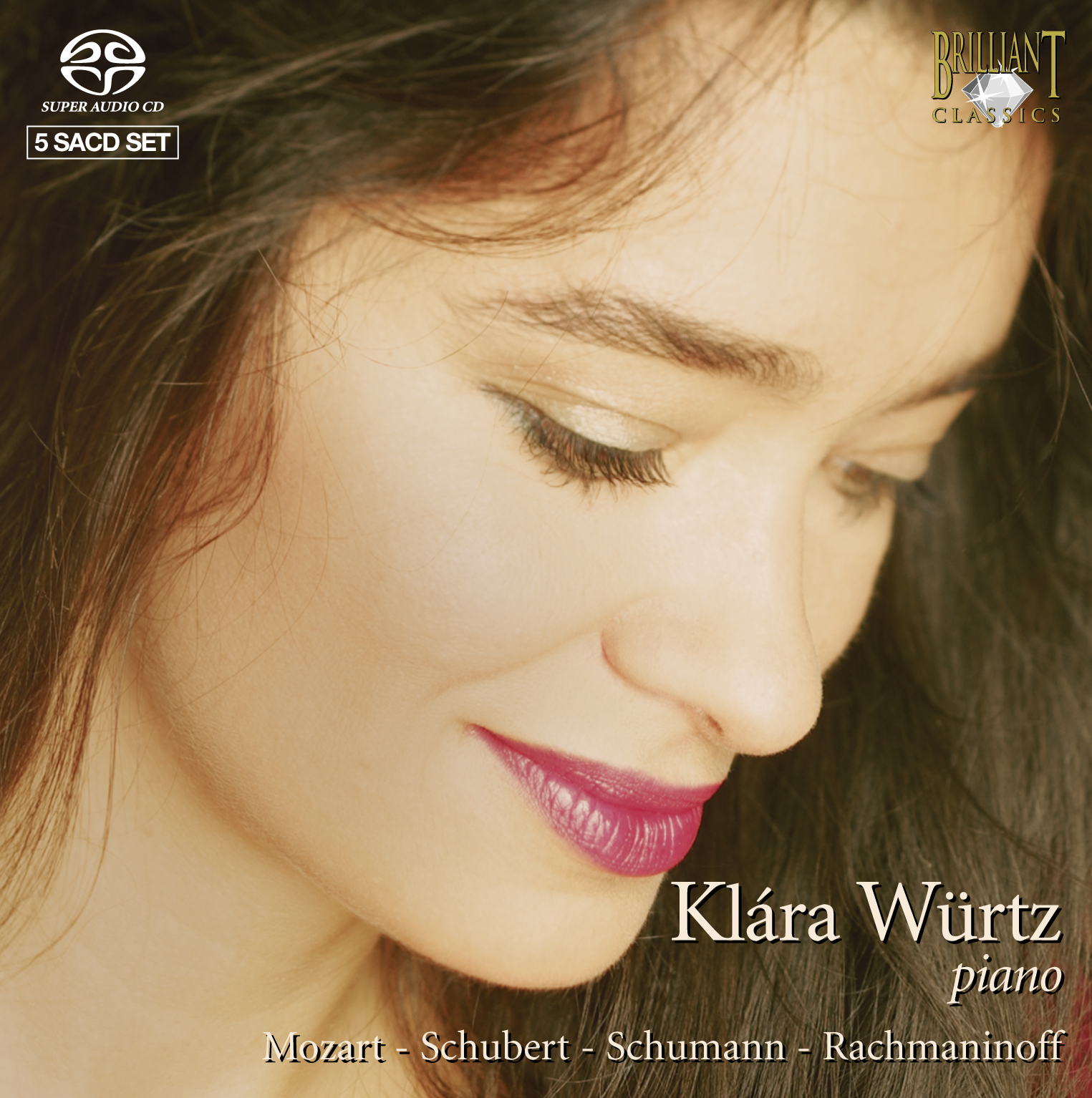 | | |
| --- | --- |
| Composer | Franz Schubert, Robert Schumann, Sergei Rachmaninoff, Wolfgang Amadeus Mozart |
| Artist | Klára Würtz piano |
| Format | 5 SACD |
| Cat. number | 92614 |
| EAN code | 5028421926148 |
| Release | April 2006 |
About this release
Hungarian-born pianist Klára Würtz was a child prodigy. Now at a more mature age her playing still has a disarming freshness leaving room for composers to speak for themselves. This pianist possesses exquisite musicality and impressive technique.

We now present a 5 SACD set showing Würtz's talent in all its variety and aspects. In the Mozart Sonatas there is clarity, in the Schubert Sonatas also a poetic vein. Schumann offers ample room for the pianist's warm and romantic side in the well-known and –loved Kreisleriana and others works.

Real virtuosity can be enjoyed when listening to the 4th and 5th discs. The piano concertos by Rachmaninoff (No. 2) and Schumann together with the National Symphony Orchestra of the Ukraine also involve real passion. Some shorter works by Liszt, Schubert, Schumann, Chopin and Debussy complete this set in a more intimate way. In short, a wide selection from the piano literature, attractively performed by a versatile pianist.

New recordings on 5-channel SACD's. These are the usual hybrid SACD's, playable on both ordinary CD and SACD players.
Track list
Disk 1
Andante grazioso

Menuetto

Rondo alla turca

Allegro

Adagio

Allegro assai

Allegro

Andante cantabile

Allegretto grazioso

Allegro molto

Adagio

Allegro assai
Disk 2
Molto moderato

Andante sostenuto

Scherzo, allegro vivace con delicatezza

Allegro, ma non troppo

Allegro, ma non troppo

Andante

Scherzo, allegretto

Allegro giusto

"Lebensstürme", allegro for piano 4 hands, in A minor D 968
Disk 3
Äusserst bewegt

Sehr innig und nicht zu rasch

Sehr aufgeregt

Sehr langsam

Sehr lebhaft

Sehr langsam, durchaus leise zu halten

Sehr rasch

Schnell und spielend

Durchaus phantastisch und leidenschaftlich vorzutragen

Mässig, durchaus energisch

Langsam getragen, durchweg leise zu halten
Disk 4
Moderato

Adagio sostenuto

Allegro scherzando

Allegro affetuoso

Intermezzo

Allegro vivace
Disk 5
Waldesrauschen

Gnomenreigen

Liebestraum No. 3 in A flat major

Mephisto Waltz No. 1

Les jeux d'eaux à la Villa d'Este (From Années de Pèlerinage III)

Impromptu in B flat major Op. 142 No. 3 "Rosamunde"

Arabesque Op. 18

Ballade No. 1 in G minor Op. 23

Barcarolle in F sharp major Op. 60

L'isle joyeuse