J.S. Bach: Violin Concertos, Transcriptions for Organ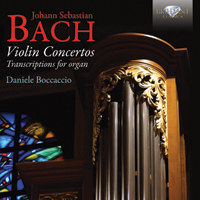 | | |
| --- | --- |
| Composer | Johann Sebastian Bach |
| Artist | Daniele Boccaccio organ |
| Format | 1 CD |
| Cat. number | 94829 |
| EAN code | 5028421948294 |
| Release | June 2014 |
About this release
A deeply personal project, this transcription for organ of three of Bach's works for violin and orchestra represents the fulfilment of a dream more than 20 years in the making. Organist Daniele Boccaccio admits that, originally, he thought it impossible to create an effective and faithful transcription of these pieces with which he fell in love at the age of 21. After years of fermentation, however, the idea grew irresistible. The result is compelling, and Boccaccio treads a well-chosen path that prioritises fidelity – his approach to the transcribing process informed by Bach's own transcriptions of Vivaldi Concertos – but leaves room for personalisation, and makes sure that the ensuing pieces are never lacking in fullness. More than two decades after his initial discovery of the Bach works, Boccaccio has succeeded in bringing them well and truly into the realm of his instrument.

Boccacio remains the youngest ever winner of the Noale National Organ Competition (1985). He has gone on to enjoy a varied career as an organist, participating in a wide array of performances, recordings, teaching and masterclasses in Italy, Austria and beyond.

Other information:
- Recorded in 2013.
- In Bach's time it was common practice to transcribe works for other instruments, whether from a creative or aesthetic motive, or from purely practical motives ("there was no orchestra available"). Bach himself transcribed solo concertos by Italian composers (Vivaldi, Torelli a.o.) for organ solo.
- Italian organist Daniele Boccaccio wrote these transcriptions of Bach's violin concertos out of deep love for the music, and a deep love and understanding of his own instrument, the result being a highly original, fresh, transparent and vibrant interpretation of these well known masterpieces.
- Liner notes written by the artist and a full specifications of the organ (Francesco Zanin organ of San Antonio Abate, Padua) in the booklet.
Track list
Disk 1
Concerto in D Major, BWV 1042: I. Allegro

Concerto in D Major, BWV 1042: II. Adagio

Concerto in D Major, BWV 1042: III. Allegro assai

Concerto in G Minor, BWV 1041: I. Allegro

Concerto in G Minor, BWV 1041: II. Andante

Concerto in G Minor, BWV 1041: III. Allegro assai

Concerto in C Minor, BWV 1043: I. Vivace

Concerto in C Minor, BWV 1043: II. Largo, ma non tanto

Concerto in C Minor, BWV 1043: III. Allegro