J.S. Bach: Trio Sonatas, BWV 525-530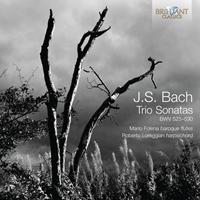 Composer
Johann Sebastian Bach
Artist
Mario Folena flute
Roberto Loreggian harpsichord
Format
1 CD
Cat. number
94406
EAN code
5028421944067
Release
April 2014
About this release
The father of the Baroque period, Johann Sebastian Bach is one of the greatest composers of all time. His works, covering a wide range of instruments and voice types, continue to flourish to this day, forming a core part of musical learning. This special disc brings together the Trio Sonatas BWV525–530, works that originally appeared in a manuscript of works for organ. In this form, the pieces naturally became part of Bach's teaching – a notable contribution to his oldest son Wilhelm Friedemann's virtuoso organ technique.

The works are often performed in various instrumental arrangements, and it is common for one melodic instrument to play one of the upper parts, with the continuo part played by harpsichord or organ. This is the case here; the pitch of each sonata has governed the choice of melodic instrument used, with Nos. 1, 2 and 4 using flauto d'amore and 3, 5 and 6 using transverse flute.

Flautist Mario Folena has played as an orchestral member and soloist with many prestigious European orchestras, and has toured Europe, North Africa, Japan and the Americas with the Orchestra di Padova e del Veneto. His counterpart on this recording, prize-winning harpsichordist Roberto Lorregian, regularly performs at festivals throughout Europe and has won acclaim for his complete recordings of the works of Frescobaldi (Brilliant Classics).

Other information:
- A Trio Sonata is a work written for two solo instruments and continuo (usually harpsichord or organ). Bach wrote his Trio Sonatas BWV 525-530 for the organ, dividing the solo voices and continuo over the 3 parts of left hand, right hand and pedal. These works, immortal masterpieces in their genre, have been subject to various new instrumentations, and this recording presents a version for flute and harpsichord, using several types of flutes: flauto d'amore, traverse flute and others.
- Played by two excellent Italian soloists: Mario Folena, soloist of several prominent early music groups, such as the English Baroque Soloists/John Elliott Gardiner, and Roberto Loreggian, one of the foremost keyboardists of Italy, with an immense and respectable discography to his name. Their earlier recording of Vivaldi Flute Sonatas (Brilliant Classics 93703) received 5 star reviews.
- Contains liner notes and performer biographies.
- Contains instrument specifications.
Track list
Disk 1
Trio Sonata No. 1 in E-Flat Major, BWV 525: I. −

Trio Sonata No. 1 in E-Flat Major, BWV 525: II. Adagio

Trio Sonata No. 1 in E-Flat Major, BWV 525: III. Allegro

Trio Sonata No. 2 in C Minor, BWV 526: I. Vivace

Trio Sonata No. 2 in C Minor, BWV 526: II. Largo

Trio Sonata No. 2 in C Minor, BWV 526: III. Allegro

Trio Sonata No. 3 in D Minor, BWV 527: I. Andante

Trio Sonata No. 3 in D Minor, BWV 527: II. Adagio e dolce

Trio Sonata No. 3 in D Minor, BWV 527: III. Vivace

Trio Sonata No. 4 in E Minor, BWV 528: I. Adagio – Vivace

Trio Sonata No. 4 in E Minor, BWV 528: II. Andante

Trio Sonata No. 4 in E Minor, BWV 528: III. Un poco allegro

Trio Sonata No. 5 in D Major, BWV 529: I. Allegro

Trio Sonata No. 5 in D Major, BWV 529: II. Largo

Trio Sonata No. 5 in D Major, BWV 529: III. Allegro

Trio Sonata No. 6 in G Major, BWV 530: I. Vivace

Trio Sonata No. 6 in G Major, BWV 530: II. Lento

Trio Sonata No. 6 in G Major, BWV 530: III. Allegro