J.S. Bach: Leipziger Choräle, BWV 651-667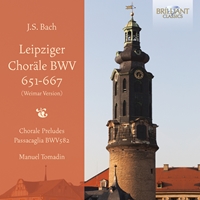 | | |
| --- | --- |
| Composer | Johann Sebastian Bach |
| Artist | Manuel Tomadin organ |
| Format | 2 CD |
| Cat. number | 94456 |
| EAN code | 5028421944562 |
| Release | February 2013 |
About this release
The C minor Passacaglia and Fugue is one of the great masterpieces for the instrument and one which inspired countless responses from composers great and lesser. So it's all the more astonishing to think that Bach wrote it while still a twenty-something hireling in Weimar, where his Kapellmeistership to the Duke ended badly with the composer being clapped in irons for touting his availability for other jobs, frustrated as his ambition was by the restrictions of the position. He had, however, managed to overhaul the organ of the court chapel in 1712–13, by collaborating with an organ-builder friend by the name of Trebs; both men had had plenty of experience upgrading instruments elsewhere, and it showed both in the colourful specification of the new instrument and the music that Bach was thereby able to write for it – none more spectacular than the spectrum of registers which the successive variations of the Passacaglia seem to cry out for. Bach also wrote plenty of 'bread and butter' chorales while in Weimar, of course, and later elaborated them, as was his wont, in Leipzig; here's a rare chance to hear the original versions.

This recording of the famous "Leipziger Choräle" of the organ master Johann Sebastian Bach presents the original version of these works, written by Bach earlier, in his Weimar period. The versions differ mainly in terms of ornamention, the Weimar version being more flourishing and elaborate, with hints of the rich French ornamentation style.

Manuel Tomadin is Young ECHO Organist of the Year 2012, having won the ninth Internationaal Schnitger Orgelconcours during the Orgelfestival Holland in June 2011 in Alkmaar. He was born in 1977 but has already made recordings on various instruments of historical importance; he enjoys a high reputation among the organ fraternity.

Other information:
- Recorded October 2010, Padova.
- As a bonus two other magnificent organ works of Bach: the Fantasia, Andante & Fugue in G minor and the monumental Passacaglia in C minor, both in a highly ornamented version: fascinating!
- Contains extensive notes (both English and Italian) on the music, together with music examples.
- Contains a biography of the artist.
Track list
Disk 1
Fantasia super Komm, Heiliger Geist, BWV 651a for full organ

Komm, Heiliger Geist, BWV 652a for two manuals and pedals

An Wasserflüssen Babylon, BWV 653b In five parts, for two manuals and double pedal

Schmücke dich, o liebe Seele, BWV 654a for two manuals and pedals

Trio Super Herr Jesu Christ, dich zu uns wend, BWV 655a for two manuals and pedals

O Lamm Gottes, unschuldig, BWV 656a

Nun danket alle Gott BWV657 for two manuals and pedals

Fantasia, Andante and Fugue in G Minor, BWV 542, 583: Fantasia

Fantasia, Andante and Fugue in G Minor, BWV 542, 583: Andante

Fantasia, Andante and Fugue in G Minor, BWV 542, 583: Fugue
Disk 2
Von Gott will ich nicht lassen, BWV 658a

Nun komm, der Heiden Heiland, BW V659 for two manuals and pedals

Trio super Nun komm, der Heiden Heiland, BWV 660a 'A due bassi e canto fermo'

Nun komm, der Heiden Heiland, BWV 661a for full organ

Allein Gott in der Hoh sei Ehr, BWV 662a for two manuals and pedals

Allein Gott in der Hoh sei Ehr, BWV 663a for two manuals and pedals

Allein Gott in der Hoh sei Ehr, BWV 664b for two manuals and pedals

Jesus Christus, unser Heiland, BWV 665a for full organ

Jesus Christus, unser Heiland, BWV 666a (alio modo)

Komm, Gott, Schöpfer, Heiliger Geist, BWV 667b

Passacaglia and Fugue in C Minor, BWV 582