Hummel: Sacred music for the Esterházy family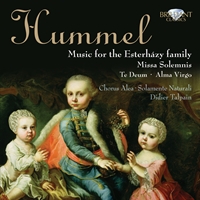 Composer
Johann Nepomuk Hummel
Artist
Solamente Naturali
Didier Talpain conductor
Format
1 CD
Cat. number
94115
EAN code
5028421941158
Release
December 2010
About this release
Johann Nepomuk Hummel, friend, rival in love and contemporary of Beethoven, pupil of Mozart, Haydn and Salieri, is best known today for his early concerto for trumpet (1803). This work clearly displays Hummel's skill in balancing the new valve trumpet against the orchestra, and his concerto exhibits his easy gift for melody and striking effects. He was however one of the greatest pianists of the early 19th century (to many, second only to Beethoven), and his piano playing technique and compositional style had a huge influence upon Chopin. His 7 piano concertos form a link from those of Mozart to the romantic concertos of Chopin, Mendelssohn and Schumann.

In 1804 Hummel took over the position of concertmaster to Prince Nikolaus Esterhazy, Haydn's old position. Haydn had supported his one time pupil's candidacy. Hummel continued his teacher's work by composing 5 masses and shorter works for the princely family, and the his masses follow on directly from Haydn's last six great settings.

Hummel's masses are impressive works, and can hold their own in the company of the masterpieces by Haydn, Schubert and later Bruckner. Hummel's skill with the orchestra is apparent at every turn and these works are brilliantly written for the choir, soloists and orchestra alike.

Other information:
- Recorded in 2007 on period instruments.
- Unusual repertoire of appeal to listeners who like Mozart, Haydn and Beethoven masses.
- Including a comprehensive booklet essay and sung texts.
Track list
Disk 1
Te Deum in D for choir and orchestra

Missa Solemnis in C, for soloists, choir and orchestra, Dresden version: Kyrie

Missa Solemnis in C, for soloists, choir and orchestra, Dresden version: Gloria

Missa Solemnis in C, for soloists, choir and orchestra, Dresden version: Credo

Missa Solemnis in C, for soloists, choir and orchestra, Dresden version: Sanctus

Missa Solemnis in C, for soloists, choir and orchestra, Dresden version: Benedictus

Missa Solemnis in C, for soloists, choir and orchestra, Dresden version: Agnus Dei

Alma Virgo, Op.89a, Offertorium in F for soprano, choir and orchestra, Ed. Symetrie/Lyon based on the Haslinger edition/Vienna