Hummel: Piano Concertos, Volume 1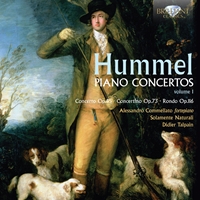 Composer
Johann Nepomuk Hummel
Artist
Alessandro Commellato fortepianos
Solamenti Naturali
Didier Talpain conductor
Format
1 CD
Cat. number
94338
EAN code
5028421943381
Release
October 2012
About this release
As the vibrant works on this new recording demonstrate, the music of Johann Nepomuk Hummel (1778–1837) deserves to be far better known today than it is. While he was one of the most famous and celebrated composers of the Classical period, his popularity declined rapidly after his death, with the onset of Romanticism, and it is only now that musicians have begun to effect a serious revival of his repertoire.

Hummel's parallel career as a concert pianist is evident from the sparkling virtuosity of the works heard on this disc, all for fortepiano and orchestra: they span his development from a young composer in the thrall of his mentor Mozart (heard in the charming Piano Concertino in G) to the drama and supreme virtuosity of his final period of creativity (Introduction & Rondo brillant in F minor). It is clear that Romanticism was beginning to take root during his lifetime; the Piano Concerto in A minor, for example, prefigures Chopin in its delicacy, and it is unsurprising that Hummel's music proved an inspiration to the younger composer.

Alessandro Commellato, Solamente Naturali and Didier Talpain are specialists in the performance of Hummel's works, having already recorded a number of his compositions for Brilliant Classics – from chamber music to opera. As their performances demonstrate, Hummel's music is highly deserving of revival, and will particularly delight listeners who enjoy the piano concertos of Mozart, Beethoven and Chopin.

Other information:
- The start of an important and exciting series: the complete piano concertos of Hummel played on period instruments.
- First recordings on period instruments, recordedin 2009 and 2010.
- Includes booklet notes and a biography of Hummel.
- Previous releases of Hummel's music on Brilliant Classics include: Piano Septets (94041), the opera Mathilde (94043) conducted by Didier Talpain, and a disc of music written for the Esterházy family (94115), performed by Didier Talpain, Chorus Alea and Solamente Naturali.
- Fortepianist Alessandro Commellato displayed his great skills in the performance of Hummel's Septet (BC 94041) and Solamente Naturali conducted by Didier Talpain proved their championship of Hummel with the recording of the opera Mathilda (BC 94043) and the Masses (BC 94115).
Track list
Disk 1
Piano Concerto in A Minor, Op. 85: I. Allegro moderato

Piano Concerto in A Minor, Op. 85: II. Larghetto

Piano Concerto in A Minor, Op. 85: III. Rondo: Allegro moderato

Piano Concertino in G, Op. 73: I. Allegro moderato

Piano Concertino in G, Op. 73: II. Andante grazioso

Piano Concertino in G, Op. 73: III. Rondo

Introduction & Rondo brillant in F Minor, Op. 127 'Le retour de Londres': I. Introduction (Largo)

Introduction & Rondo brillant in F Minor, Op. 127 'Le retour de Londres': II. Allegretto vivace