Haydn: Symphonies (Complete)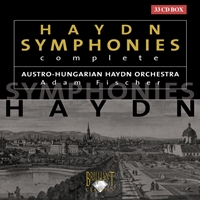 Composer
Franz Joseph Haydn
Artist
Austro-Hungarian Haydn Orchestra
Adam Fischer conductor
Format
33 CD
Cat. number
99925
EAN code
5028421999258
Release
April 2006
About this release
One of the major recording projects of the last ten years: the recording of the complete 104 symphonies by Joseph Haydn.

Performed by the Austro-Hungarian Haydn Orchestra conducted by Adam Fischer. This orchestra was especially formed for these recordings by first-desk players from the Wiener Philharmonic and the Hungarian State Orchestra. These players maintain the unique Central European performing practice. It is difficult to describe this practice: it is a natural flow of ritardandi, rhythmical deviations and accents, which make the music come alive and reveal its innate dramatic quality.

Played on modern instruments. Why? because the players come from the big and the best symphonic orchestras, and are used to their instruments. Moreover, the players perform in a living tradition, and have developed their own musical language.

Each symphony was recorded in the magnificent Haydnsaal of the Esterhazy Palace in Eisenstadt, where Haydn actually worked as a Kapellmeister, giving this project an unique authentic feeling.
Track list
Disk 1
Symphony No. 1 in D Major: Presto

Symphony No. 1 in D Major: Andante

Symphony No. 1 in D Major: Presto

Symphony No. 2 in C Major: Allegro

Symphony No. 2 in C Major: Andante

Symphony No. 2 in C Major: Finale, presto

Symphony No. 3 in G Major: Allegro

Symphony No. 3 in G Major: Andante moderato

Symphony No. 3 in G Major: Menuet & trio

Symphony No. 3 in G Major: Finale, alla breve, allegro

Symphony No. 4 in D Major: Presto

Symphony No. 4 in D Major: Andante

Symphony No. 4 in D Major: Finale, tempo di menuetto

Symphony No. In A Major: Adagio

Symphony No. In A Major: Allegro

Symphony No. In A Major: Minuet & trio

Symphony No. In A Major: Finale, presto
Disk 2
Symphony No. 6 in D Major "Le Matin": Adagio-allegro

Symphony No. 6 in D Major "Le Matin": Adagio-andante-adagio

Symphony No. 6 in D Major "Le Matin": Menuet & trio

Symphony No. 6 in D Major "Le Matin": Finale, allegro

Symphony No. 7 in C Major "Le Midi": Adagio-allegro

Symphony No. 7 in C Major "Le Midi": Recitativo: adagio

Symphony No. 7 in C Major "Le Midi": Menuetto & trio

Symphony No. 7 in C Major "Le Midi": Finale, allegro

Symphony No. 8 in G Major "Le Soir": Allegro molto

Symphony No. 8 in G Major "Le Soir": Andante

Symphony No. 8 in G Major "Le Soir": Menuetto & trio

Symphony No. 8 in G Major "Le Soir": La Tempesta, presto
Disk 3
Symphony No. 9 in C Major: Allegro Molto

Symphony No. 9 in C Major: Andante

Symphony No. 9 in C Major: Finale-menuetto & Trio

Symphony No. 10 in D Major: Allegro

Symphony No. 10 in D Major: Andante

Symphony No. 10 in D Major: Finale, presto

Symphony No. 11 in E-Flat Major: Adagio cantabile

Symphony No. 11 in E-Flat Major: Allegro

Symphony No. 11 in E-Flat Major: Minuet & Trio

Symphony No. 11 in E-Flat Major: Finale, Presto

Symphony No. 12 in E Major: Allegro

Symphony No. 12 in E Major: Adagio

Symphony No. 12 in E Major: Finale, Presto
Disk 4
Symphony No. 13 in D Major: Allegro Molto

Symphony No. 13 in D Major: Adagio Cantabile

Symphony No. 13 in D Major: Menuet & Trio

Symphony No. 13 in D Major: Finale, Allegro Molto

Symphony No. 14 in A Major: Allegro Molto

Symphony No. 14 in A Major: Andante

Symphony No. 14 in A Major: Menuetto & Trio, Allegretto

Symphony No. 14 in A Major: Finale, Allegro

Symphony No. 15 in D Major: Adagio-Presto-Adagio

Symphony No. 15 in D Major: Menuet & Trio

Symphony No. 15 in D Major: Andante

Symphony No. 15 in D Major: Finale, Presto

Symphony No. 16 in B-Flat: Allegro

Symphony No. 16 in B-Flat: Andante

Symphony No. 16 in B-Flat: Finale, Presto
Disk 5
Symphony No. 17 in F Major: Allegro

Symphony No. 17 in F Major: Andante, ma non Troppo

Symphony No. 17 in F Major: Finale

Symphony No. 18 in G Major: Andante moderato

Symphony No. 18 in G Major: Allegro

Symphony No. 18 in G Major: Tempo di Menuet

Symphony No. 19 in D Major: Allegro molto

Symphony No. 19 in D Major: Andante

Symphony No. 19 in D Major: Presto

Symphony No. 20 in C Major: Allegro Molto

Symphony No. 20 in C Major: Andante Cantabile

Symphony No. 20 in C Major: Menuet & Trio

Symphony No. 20 in C Major: Presto
Disk 6
Symphony No. 21 in A Major: Adagio

Symphony No. 21 in A Major: Presto

Symphony No. 21 in A Major: Menuet & Trio

Symphony No. 21 in A Major: Finale, Allegro Molto

Symphony No. 22 in E-Flat Major "Der Philosoph": Adagio

Symphony No. 22 in E-Flat Major "Der Philosoph": Presto

Symphony No. 22 in E-Flat Major "Der Philosoph": Menuetto & Trio

Symphony No. 22 in E-Flat Major "Der Philosoph": Finale, Presto

Symphony No. 23 in G Major: Allegro

Symphony No. 23 in G Major: Andante

Symphony No. 23 in G Major: Menuet & Trio

Symphony No. 23 in G Major: Finale, Presto

Symphony No. 24 in D Major: Allegro

Symphony No. 24 in D Major: Adagio

Symphony No. 24 in D Major: Menuet & Trio

Symphony No. 24 in D Major: Finale, Allegro
Disk 7
Symphony No. 25 in C Major: Adagio-allegro Molto

Symphony No. 25 in C Major: Menuet & Trio

Symphony No. 25 in C Major: Presto

Symphony No. 26 in D Minor "Lamentatione": Allegro assai con spirito

Symphony No. 26 in D Minor "Lamentatione": Adagio

Symphony No. 26 in D Minor "Lamentatione":Menuet & trio

Symphony No. 27 in G Major: Allegro molto

Symphony No. 27 in G Major: Andante: siciliano

Symphony No. 27 in G Major: Finale, Presto

Symphony No. 28 in A Major: Allegro di molto

Symphony No. 28 in A Major: Poco adagio

Symphony No. 28 in A Major: Menuet & Trio, allegro molto

Symphony No. 28 in A Major: Presto assai

Symphony No. 29 in E Major: Allegro ma non Troppo

Symphony No. 29 in E Major: Andante

Symphony No. 29 in E Major: Menuet & trio, allegretto

Symphony No. 29 in E Major: Finale, Presto
Disk 8
Symphony No. 30 in C Major: Allegro

Symphony No. 30 in C Major: Andante

Symphony No. 30 in C Major: Finale, tempo di minuet, piu tosto allegretto

Symphony No. 31 in D Major "Hornsignal": Allegro

Symphony No. 31 in D Major "Hornsignal": Adagio

Symphony No. 31 in D Major "Hornsignal": Menuet & Trio

Symphony No. 31 in D Major "Hornsignal": Finale, moderato molto-presto

Symphony No. 32 in C Major: Allegro molto

Symphony No. 32 in C Major: Menuet & trio

Symphony No. 32 in C Major: Adagio, ma non troppo

Symphony No. 32 in C Major: Finale, Presto

Symphony No. 33 in C Major: Vivace

Symphony No. 33 in C Major: Andante

Symphony No. 33 in C Major: Menuet & trio

Symphony No. 33 in C Major: Finale, allegro
Disk 9
Symphony No. 34 in D Minor: Adagio

Symphony No. 34 in D Minor: Allegro

Symphony No. 34 in D Minor: Menuet & trio

Symphony No. 34 in D Minor: Presto assai

Symphony No. 35 in B-Flat Major: Allegro di Molto

Symphony No. 35 in B-Flat Major: Andante

Symphony No. 35 in B-Flat Major: Menuet & trio, un poco allegretto

Symphony No. 35 in B-Flat Major: Finale, presto

Symphony No. 36 in E-Flat Major: Vivace

Symphony No. 36 in E-Flat Major: Adagio

Symphony No. 36 in E-Flat Major: Menuetto & trio

Symphony No. 36 in E-Flat Major: Allegro

Symphony No. 37 in C Major: Presto

Symphony No. 37 in C Major: Menuet & Trio

Symphony No. 37 in C Major: Andante

Symphony No. 37 in C Major: Presto
Disk 10
Symphony No. 38 in C Major "Echo": Allegro di molto

Symphony No. 38 in C Major "Echo": Andante molto

Symphony No. 38 in C Major "Echo": Menuet & trio, allegro

Symphony No. 38 in C Major "Echo": Finale, allegro di Molto

Symphony No. 39 in G Minor: Allegro assai

Symphony No. 39 in G Minor: Andante

Symphony No. 39 in G Minor: Menuet & trio

Symphony No. 39 in G Minor: Finale, allegro di molto

Symphony "A", in B-Flat Major: Allegro

Symphony "A", in B-Flat Major: Andante

Symphony "A", in B-Flat Major: Allegro molto

Symphony "B", in B-Flat Major: Allegro

Symphony "B", in B-Flat Major: Menuetto & trio, allegretto

Symphony "B", in B-Flat Major: Andante

Symphony "B", in B-Flat Major: Finale, Presto
Disk 11
Symphony No. 40 in F Major: Allegro

Symphony No. 40 in F Major: Andante piu tosto allegretto

Symphony No. 40 in F Major: Menuet & trio

Symphony No. 40 in F Major: Finale-fuga, Allegro

Symphony No. 41 in C Major: Allegro con spirito

Symphony No. 41 in C Major: Un poco andante

Symphony No. 41 in C Major: Menuet & trio

Symphony No. 41 in C Major: Finale, Presto

Symphony No. 42 in D Major: Moderato e maestoso

Symphony No. 42 in D Major: Andantino e cantabile

Symphony No. 42 in D Major: Menuet & trio, allegretto

Symphony No. 42 in D Major: Finale, scherzando e presto
Disk 12
Symphony No. 43 in E-Flat Major "Merkur" (Mercury): Allegro

Symphony No. 43 in E-Flat Major "Merkur" (Mercury): Adagio

Symphony No. 43 in E-Flat Major "Merkur" (Mercury): Menuetto & trio

Symphony No. 43 in E-Flat Major "Merkur" (Mercury): Finale, Allegro

Symphony No. 44 in E Minor "Trauersymphonie" (Mourning): Allegro con brio

Symphony No. 44 in E Minor "Trauersymphonie" (Mourning): Mennuetto & trio, allegretto

Symphony No. 44 in E Minor "Trauersymphonie" (Mourning): Adagio

Symphony No. 44 in E Minor "Trauersymphonie" (Mourning): Finale, Presto

Symphony No. 45 in F-Sharp Minor "Abscheidssymhonie" (Farewell): Allegro assai

Symphony No. 45 in F-Sharp Minor "Abscheidssymhonie" (Farewell): Adagio

Symphony No. 45 in F-Sharp Minor "Abscheidssymhonie" (Farewell): Menuet & trio, allegretto

Symphony No. 45 in F-Sharp Minor "Abscheidssymhonie" (Farewell): Finale, presto-adagio
Disk 13
Symphony No. 46 in B Major: Vivace

Symphony No. 46 in B Major: Poco adagio

Symphony No. 46 in B Major: Menuet & trio, allegretto

Symphony No. 47 in G Major: Finale, presto e scherzando

Symphony No. 47 in G Major: Allegro

Symphony No. 47 in G Major: Un poco adagio, cantabile

Symphony No. 47 in G Major: Menuet & trio

Symphony No. 47 in G Major: Fianle, presto assai

Symphony No. 48 in C Major "Maria Theresia": Allegro

Symphony No. 48 in C Major "Maria Theresia": Adagio

Symphony No. 48 in C Major "Maria Theresia": Menuet & trio, allegretto

Symphony No. 48 in C Major "Maria Theresia": Finale, allegro
Disk 14
Symphony No. 49 in F Minor "La Passione": Adagio

Symphony No. 49 in F Minor "La Passione": Allegro di molto

Symphony No. 49 in F Minor "La Passione": Menuet & trio

Symphony No. 49 in F Minor "La Passione": Finale, presto

Symphony No. 50 in C Major: Adagio e maestoso-allegro di molto

Symphony No. 50 in C Major: Andante moderato

Symphony No. 50 in C Major: Menuet & trio

Symphony No. 50 in C Major: Finale, presto

Symphony No. 51 in B-Flat Major: Vivace

Symphony No. 51 in B-Flat Major: Adagio

Symphony No. 51 in B-Flat Major: Menuetto-trio I-trio II

Symphony No. 51 in B-Flat Major: Finale, allegro
Disk 15
Symphony No. 52 in C Minor: Allegro assai con brio

Symphony No. 52 in C Minor: Andante

Symphony No. 52 in C Minor: Menuetto & trio, allegretto

Symphony No. 52 in C Minor: Finale, presto

Symphony No. 53 in D Major "L'Impérale": Largo maestoso-vivace

Symphony No. 53 in D Major "L'Impérale": Andante

Symphony No. 53 in D Major "L'Impérale": Menuetto & trio

Symphony No. 53 in D Major "L'Impérale": Finale-Capriccio, presto

Symphony No. 54 in G Major: Adagio maestoso-presto

Symphony No. 54 in G Major: Adagio assai

Symphony No. 54 in G Major: Menuet & trio, allegretto

Symphony No. 54 in G Major: Finale, presto
Disk 16
Symphony No. 55 in E-Flat Major "Der Schulmeister": Allegro di molto

Symphony No. 55 in E-Flat Major "Der Schulmeister": Adagio, ma semplicemente

Symphony No. 55 in E-Flat Major "Der Schulmeister": Menuetto & trio

Symphony No. 55 in E-Flat Major "Der Schulmeister": Finale, presto

Symphony No. 56 in C Major: Allegro di molto

Symphony No. 56 in C Major: Adagio

Symphony No. 56 in C Major: Menuet & trio

Symphony No. 56 in C Major: Finale, prestissimo

Symphony No. 57 in D Major: Adagio-allegro

Symphony No. 57 in D Major: Adagio

Symphony No. 57 in D Major: Menuet & trio, allegretto

Symphony No. 57 in D Major: Prestissimo
Disk 17
Symphony No. 58 in F Major: Allegro

Symphony No. 58 in F Major: Andante

Symphony No. 58 in F Major: Menuet alla zoppa-trio

Symphony No. 58 in F Major: Finale, presto

Symphony No. 59 in A Major "Feuersymphonie": Presto

Symphony No. 59 in A Major "Feuersymphonie": Andante o più tosto allegretto

Symphony No. 59 in A Major "Feuersymphonie": Menuetto & trio

Symphony No. 59 in A Major "Feuersymphonie": Allegro assai

Symphony No. 60 in C Major "Il Distratto": Adagio-allegro di molto

Symphony No. 60 in C Major "Il Distratto": Andante

Symphony No. 60 in C Major "Il Distratto": Menuetto & trio

Symphony No. 60 in C Major "Il Distratto": Presto

Symphony No. 60 in C Major "Il Distratto": Adagio (di Lamentatione)

Symphony No. 60 in C Major "Il Distratto": Finale, prestissimo
Disk 18
Symphony No. 61 in D Major: Vivace

Symphony No. 61 in D Major: Adagio

Symphony No. 61 in D Major: Menuet & trio, allegretto

Symphony No. 61 in D Major: Prestissimo

Symphony No. 62 in D Major: Allegro

Symphony No. 62 in D Major: Allegretto

Symphony No. 62 in D Major: Menuet & trio, allegretto

Symphony No. 62 in D Major: Finale, allegro

Symphony No. In C Major "La Roxelane": Allegro

Symphony No. In C Major "La Roxelane": La Roxelane, allegretto (o più tosto allegro)

Symphony No. In C Major "La Roxelane": Menuet & trio

Symphony No. In C Major "La Roxelane": Finale, presto
Disk 19
Symphony No. 64 in A Major "Tempora Mutantur": Allegro con spirito

Symphony No. 64 in A Major "Tempora Mutantur": Largo

Symphony No. 64 in A Major "Tempora Mutantur": Menuet & trio, allegretto

Symphony No. 64 in A Major "Tempora Mutantur": Finale, presto

Symphony No. 65 in A Major: Vivace e con spirito

Symphony No. 65 in A Major: Andante

Symphony No. 65 in A Major: Menuetto & trio

Symphony No. 65 in A Major: Finale, presto

Symphony No. 66 in B-Flat Major: Allegro con brio

Symphony No. 66 in B-Flat Major: Adagio

Symphony No. 66 in B-Flat Major: Menuetto & trio

Symphony No. 66 in B-Flat Major: Finale, scherzando e presto
Disk 20
Symphony No. 67 in F Major: Presto

Symphony No. 67 in F Major: Adagio

Symphony No. 67 in F Major: Menuetto & trio

Symphony No. 67 in F Major: Finale, allegro di molto-adagio e cantabile-allegro di molto

Symphony No. 68 in B-Flat Major: Vivace

Symphony No. 68 in B-Flat Major: Menuetto & trio

Symphony No. 68 in B-Flat Major: Adagio cantabile

Symphony No. 68 in B-Flat Major: Finale, presto

Symphony No. 69 in C Major "Laudon": Vivace

Symphony No. 69 in C Major "Laudon": Un poco adagio più tosto andante

Symphony No. 69 in C Major "Laudon": Menuetto & trio

Symphony No. 69 in C Major "Laudon": Finale, presto
Disk 21
Symphony No. 70 in D Major: Vivace con brio

Symphony No. 70 in D Major: Specie d'un canone in contrrapunto dopio, andante

Symphony No. 70 in D Major: Menuet & trio, allegretto

Symphony No. 70 in D Major: Finale, allegro con brio

Symphony No. 71 in B-Flat Major: Adagio-allegro con brio

Symphony No. 71 in B-Flat Major: Adagio

Symphony No. 71 in B-Flat Major: Menuetto & trio

Symphony No. 71 in B-Flat Major: Finale, vivace

Symphony No. 72 in D Major: Allegro

Symphony No. 72 in D Major: Andante

Symphony No. 72 in D Major: Menuet & trio

Symphony No. 72 in D Major: Finale, andante (Thema, variationen I.-VI.)-presto
Disk 22
Symphony No. 73 in D Major "La Chasse": Adagio-allegro

Symphony No. 73 in D Major "La Chasse": Andante

Symphony No. 73 in D Major "La Chasse": Menuetto & trio, allegretto

Symphony No. 73 in D Major "La Chasse": La Chasse, presto

Symphony No. 74 in E-Flat Major: Vivace assai

Symphony No. 74 in E-Flat Major: Adagio cantabile

Symphony No. 74 in E-Flat Major: Menuetto & trio, allegretto

Symphony No. 74 in E-Flat Major: Finale, allegro assai

Symphony No. 75 in D Major: Grave-presto

Symphony No. 75 in D Major: Poco adagio (andante con variazioni)

Symphony No. 75 in D Major: Menuetto & trio, allegretto

Symphony No. 75 in D Major: Finale, vivace
Disk 23
Symphony No. 76 in E-Flat: Allegro

Symphony No. 76 in E-Flat: Adagio, ma non troppo

Symphony No. 76 in E-Flat: Menuet & trio, allegretto

Symphony No. 76 in E-Flat: Finale, allegro ma non troppo

Symphony No. 77 in B-Flat Major: Vivace

Symphony No. 77 in B-Flat Major: Andante sostenuto

Symphony No. 77 in B-Flat Major: Menuetto & trio, allegro

Symphony No. 77 in B-Flat Major: Finale, allegro spiritoso

Symphony No. 78 in C Minor: Vivace

Symphony No. 78 in C Minor: Adagio

Symphony No. 78 in C Minor: Menuetto & trio, allegretto

Symphony No. 78 in C Minor: Finale, presto
Disk 24
Symphony No. 79 in F Major: Allegro con spirito

Symphony No. 79 in F Major: Adagio cantabile-un poco allegro

Symphony No. 79 in F Major: Menuetto & trio, allegretto

Symphony No. 79 in F Major: Finale, vivace

Symphony No. 80 in D Minor: Allegro spiritoso

Symphony No. 80 in D Minor: Adagio

Symphony No. 80 in D Minor: Menuetto & trio

Symphony No. 80 in D Minor: Finale, presto

Symphony No. 81 in G Major: Vivace

Symphony No. 81 in G Major: Andante

Symphony No. 81 in G Major: Menuetto & trio, allegretto

Symphony No. 81 in G Major: Finale, allegro, ma non troppo
Disk 25
Symphony No. 82 in C Major "L'Ours" (The Bear): Vivace assai

Symphony No. 82 in C Major "L'Ours" (The Bear): Alegretto

Symphony No. 82 in C Major "L'Ours" (The Bear): Menuet & trio

Symphony No. 82 in C Major "L'Ours" (The Bear): Finale, Vivace

Symphony No. 83 in G Minor "La Poule" ( The Hen): Allegro spiritoso

Symphony No. 83 in G Minor "La Poule" ( The Hen): Andante

Symphony No. 83 in G Minor "La Poule" ( The Hen): Menuet & trio, allegretto

Symphony No. 83 in G Minor "La Poule" ( The Hen): Finale, vivace

Symphony No. 84 in E-Flat Major: Largo-allegro

Symphony No. 84 in E-Flat Major: Andante

Symphony No. 84 in E-Flat Major: Menuet & trio, allegretto

Symphony No. 84 in E-Flat Major: Finale, vivace
Disk 26
Symphony No. 85 in B-Flat Major "La Reine": Adagio-vivace

Symphony No. 85 in B-Flat Major "La Reine": Romance, allegretto

Symphony No. 85 in B-Flat Major "La Reine": Menuetto & trio, allegretto

Symphony No. 85 in B-Flat Major "La Reine": Finale, presto

Symphony No. 86 in D Major: Adagio-allegro spiritoso

Symphony No. 86 in D Major: Capriccio, largo

Symphony No. 86 in D Major: Menuet & trio, allegretto

Symphony No. 86 in D Major: Finale, allegro con spirito

Symphony No. 87: Vivace

Symphony No. 87: Adagio

Symphony No. 87: Menuet & trio

Symphony No. 87: Finale, presto
Disk 27
Symphony No. 88 in G Major: Adagio-allegro

Symphony No. 88 in G Major: Largo

Symphony No. 88 in G Major: Menuetto & trio, allegretto

Symphony No. 88 in G Major: Finale, allegro con spirito

Symphony No. 89 in F Major: Vivace

Symphony No. 89 in F Major: Andante con moto

Symphony No. 89 in F Major: Menuet & trio, allegretto

Symphony No. 89 in F Major: Finale, vivace assai

Symphony No. 90 in C Major: Adagio-allegro assai

Symphony No. 90 in C Major: Andante

Symphony No. 90 in C Major: Menuet & trio

Symphony No. 90 in C Major: Finale, allegro assai
Disk 28
Symphony No. 91 in E-Flat Major: Largo-allegro assai

Symphony No. 91 in E-Flat Major: Andante

Symphony No. 91 in E-Flat Major: Menuet & trio, un poco allegretto

Symphony No. 91 in E-Flat Major: Finale, vivace

Symphony No. 92 in G Major "Oxford": Adagio-allegro spiritoso

Symphony No. 92 in G Major "Oxford": Adagio

Symphony No. 92 in G Major "Oxford": Menuet & trio, allegretto

Symphony No. 92 in G Major "Oxford": Presto

Sinfonia Concertante in B-Flat Major, violin, cello, oboe & bassoon: Allegro

Sinfonia Concertante in B-Flat Major, violin, cello, oboe & bassoon: Andante

Sinfonia Concertante in B-Flat Major, violin, cello, oboe & bassoon: Allegro con spirito
Disk 29
Symphony No. 93 in D Major: Adagio-allegro assai

Symphony No. 93 in D Major: Largo cantabile

Symphony No. 93 in D Major: Menuetto & trio, allegro

Symphony No. 93 in D Major: Finale, presto ma non troppo

Symphony No. 94 in G Major "Surprise": Adagio-vivace assai

Symphony No. 94 in G Major "Surprise": Andante

Symphony No. 94 in G Major "Surprise": Menuet & trio, allegro molto

Symphony No. 94 in G Major "Surprise": Finale, allegro di molto

Symphony No. 95 in C Minor: Allegro moderato

Symphony No. 95 in C Minor: Andante

Symphony No. 95 in C Minor: Menuetto & trio

Symphony No. 95 in C Minor: Finale Vivace
Disk 30
Symphony No. 69 in D Major: Adagio-allegro

Symphony No. 69 in D Major: Andante

Symphony No. 69 in D Major: Menuetto & trio, allegretto

Symphony No. 69 in D Major: Finale, Vivace

Symphony No. 97 in C Major: Adagio-vivace

Symphony No. 97 in C Major: Adagio ma non troppo

Symphony No. 97 in C Major: Menuetto & trio, allegretto

Symphony No. 97 in C Major: Finale, presto assai

Symphony No. 98 in B-Flat Major: Adagio-allegro

Symphony No. 98 in B-Flat Major: Adagio

Symphony No. 98 in B-Flat Major: Menuet & trio, allegro

Symphony No. 98 in B-Flat Major: Finale, presto
Disk 31
Symphony No. 99 in E-Flat Major: Adagio-vivace assai

Symphony No. 99 in E-Flat Major: Adagio

Symphony No. 99 in E-Flat Major: Menuet & trio, allegretto

Symphony No. 99 in E-Flat Major: Finale, Vivace

Symphony No. 100 in G Major "Military": Adagio-allegro

Symphony No. 100 in G Major "Military": Allegretto

Symphony No. 100 in G Major "Military": Menuet & trio, moderato

Symphony No. 100 in G Major "Military": Finale, presto
Disk 32
Symphony No. 101 in D Major "Clock": Adagio-presto

Symphony No. 101 in D Major "Clock": Andante

Symphony No. 101 in D Major "Clock": Menuet & trio, allegretto

Symphony No. 101 in D Major "Clock": Finale, presto

Symphony No. 102 in B-Flat Major "Miracle": Largo-allegro vivace

Symphony No. 102 in B-Flat Major "Miracle": Adagio

Symphony No. 102 in B-Flat Major "Miracle": Menuetto & trio, allegro

Symphony No. 102 in B-Flat Major "Miracle": Finale, presto
Disk 33
Symphony No. 103 in E-Flat Major "Mit dem Paukenwirbel" (Drumroll): Adagio-allegro con spirito

Symphony No. 103 in E-Flat Major "Mit dem Paukenwirbel" (Drumroll): Andante più tosto allegretto

Symphony No. 103 in E-Flat Major "Mit dem Paukenwirbel" (Drumroll): Menuet & trio

Symphony No. 103 in E-Flat Major "Mit dem Paukenwirbel" (Drumroll): Finale, allegro

Symphony No. 104 in D Major "London": Adagio-allegro

Symphony No. 104 in D Major "London": Andante

Symphony No. 104 in D Major "London": Menuetto & trio, allegro

Symphony No. 104 in D Major "London": Finale, spiritoso