Haydn: String Quartets, Vol. 10 Op. 54 & 55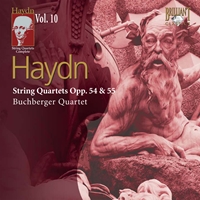 Composer
Franz Joseph Haydn
Artist
Buchberger Quartet:
Hubert Buchberger violin I
Julia Greve violin II
Joachim Etzel viola
Helmut Sohler cello
Format
2 CD
Cat. number
93871
EAN code
5028421938714
Release
April 2009
About this release
This painstaking complete cycle of Haydn's quartets nears its climax with some of the most brilliant, quirky and virtuosic examples of the genre.

It may have been the extraordinary success of the symphonies he wrote for the brilliant orchestra of the Loge Olympique that prompted Haydn to conceive his new quartets for the German-born Parisian publisher Jean-Georges Sieber. Haydn knew well the Parisian predilection for soloistic display, evinced in symphonic music by the great popularity in France of the 'symphonie concertante' and in chamber music by the genre 'quatuor brillant'. He was able to develop his new quartets along the same lines without any sacrifice of complexity or depth.

But virtuosity is never remotely an end in itself. Indeed, in the C major Quartet, Op.54 No.2, especially, it becomes a key element in music of astonishing force and rhetorical boldness: in the spacious opening movement, with its wide tonal reach, and almost orchestral depth of sonority; and in the C minor Adagio, where the first violin weaves wild, gypsy-style fantasies above the brooding chorale-like theme in the lower voices.

Taken together, both sets exhibit qualities of experimentation, gratifying instrumental virtuosity and dramatic expressiveness, especially in the slow movements, that make them a constant source of delight and satisfaction.

Other information:
- The tenth of eleven volumes of Haydns complete string quartets.
- Latest critical research into the manuscripts has been incorporated within the parts used.
- The Buchberger Quartet has attracted considerable critical attention and acclaim for their Haydn recordings; Haydn's music has been central to the quartet's repertoire since its establishment by Hubert Buchberger over 20 years ago. These recordings are the culmination of years of practical study and reflection.
Track list
Disk 1
String Quartet in G, Op. 54 No. 1: I. vivace Assai

String Quartet in G, Op. 54 No. 1: II. Andante più tosto Allegretto

String Quartet in G, Op. 54 No. 1: III. Menuetto - Trio

String Quartet in G, Op. 54 No. 1: IV. Finale: vivace

String Quartet in C, Op. 54 No. 2: I. vivace

String Quartet in C, Op. 54 No. 2: II. Adagio

String Quartet in C, Op. 54 No. 2: III. Menuetto: Allegretto - Trio

String Quartet in C, Op. 54 No. 2: IV. Finale: Adagio - Presto - Adagio

String Quartet in E, Op. 54 No. 3: I. Allegro

String Quartet in E, Op. 54 No. 3: II. Largo

String Quartet in E, Op. 54 No. 3: III. Menuetto: Allegretto - Trio

String Quartet in E, Op. 54 No. 3: IV. Finale: Presto
Disk 2
String Quartet in A, Op. 55 No. 1: I. Allegro

String Quartet in A, Op. 55 No. 1: II. Adagio cantabile

String Quartet in A, Op. 55 No. 1: III. Menuetto - Trio

String Quartet in A, Op. 55 No. 1: IV. Finale: vivace

String Quartet in F Minor, Op. 55 No. 2: I. Allegro

String Quartet in F Minor, Op. 55 No. 2: II. Allegro

String Quartet in F Minor, Op. 55 No. 2: III. Menuetto: Allegretto - Trio

String Quartet in F Minor, Op. 55 No. 2: IV. Finale: Presto

String Quartet in B-Flat, Op. 55 No. 3: I. vivace Assai

String Quartet in B-Flat, Op. 55 No. 3: II. Adagio ma non troppo

String Quartet in B-Flat, Op. 55 No. 3: III. Menuetto - Trio

String Quartet in B-Flat, Op. 55 No. 3: IV. Finale: Presto