Haydn: Keyboard Concertos Nos. 3, 4 & 11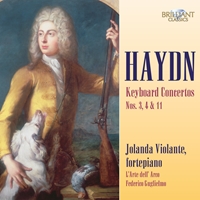 Composer
Franz Joseph Haydn
Artist
Jolanda Violante fortepiano
L'Arte dell'Arco
Federico Guglielmo conductor
Format
1 CD
Cat. number
94175
EAN code
5028421941752
Release
January 2011
About this release
Unlike Mozart, Haydn for some reason failed to realise the potential of the new pianoforte as a concertante instrument, and his concertos for keyboard (some spurious) tend to focus on the organ or harpsichord.

The three works on this CD are all authentic Haydn. The 4th concerto was composed in 1770 for the blind pianist Maria Theresa Paradis, for whom Mozart and Salieri also composed piano concertos. The 3rd concerto dates from 1771, and has an especially beautiful slow movement.

The D major concerto No.11 is a masterpiece and dates from 1780. It is much nearer to Mozart's concertos of this date, and some have gone as far as to label it Haydn's 'only' piano concerto. It is a big work, again with a wonderful slow movement following an impressive opening movement. It is however the finale 'Rondo all'Ungarese' that has made it one of Haydn's most famous and best loved works.

Other information:
- Period instrument performances.
- Recording made in 2008.
Track list
Disk 1
Keyboard Concerto in D Hob, XVIII: 11: I. Vivace

Keyboard Concerto in D Hob, XVIII: 11: II. Un poco adagio

Keyboard Concerto in D Hob, XVIII: 11: III. Rondo all'Ungarese: Allegro assai

Keyboard Concerto in G Hob, XVIII: 4: I. Allegro

Keyboard Concerto in G Hob, XVIII: 4: II. Adagio

Keyboard Concerto in G Hob, XVIII: 4: III. Rondo: Presto

Keyboard Concerto in F Hob, XVIII: 3: I. Allegro

Keyboard Concerto in F Hob, XVIII: 3: II. Largo cantabile

Keyboard Concerto in F Hob, XVIII: 3: III. Presto