Frescobaldi, Gesualdo, Solbiati: Music for Accordion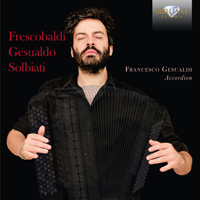 | | |
| --- | --- |
| Composer | Alessandro Solbiati, Carlo Gesualdo Da Venosa, Girolamo Frescobaldi |
| Artist | Francesco Gesualdi accordion |
| Format | 1 CD |
| Cat. number | 94972 |
| EAN code | 5028421949727 |
| Release | January 2017 |
About this release
Here's a disc for which the record catalogues disclose no rival: some of the finest and most elaborate Baroque toccatas, arranged for a modern accordion virtuoso. Frescobaldi and his successors, principal among them Bach, who owned and evidently used and honoured several important collections of his work, would likely have seen no obstacle, musical or intellectual, to such arrangements. They often transcribed their own music according to the requirements or possibilities of a given situation: when, for example, a particularly gifted musician was available.

Francesco Gesualdi is one such. He is renowned for his ability to produce sounds that conjure up the action underlying the music, and indeed evoke the spaces in which the events take place. This is particularly noteworthy when performance is actually separated from the reality of visualization. The synaesthetic experience underlying vision and visionary perception is arguably one of the fundamental ingredients of the seconda pratica, which aimed at engaging the feelings of the listener. This art was essential to the evocative power of Frescobaldi's music.

In the preface to his first book of toccatas, published in 1615, the composer himself summarised this art as a complete understanding of 'playing with song-like expression and rhythmic perfection.' The toccatas are far more varied in tone and expression than the modern understanding of the term, as a repetitive form which accumulates tension over a long span, would suggest. The eighth Toccata of the Second Book creates a sense of harmonic instability through the use of the chromaticism, suspensions and unexpected resolutions that were typical of Neapolitan experimentalism.

The disc is completed with the transcription of a canzona by Carlo Gesualdo, the Canzon francese del Principe, and the second movement of a Trilogy for accordion by the contemporary Italian composer Alessandro Solbiati. Entitled da Gesualdo per Gesualdi, this movement derives from a fragment of Gesualdo, in which the original and ever-modern harmonies are further expanded in a series of loops.

Two masters of the Italian Renaissance, played on…the accordion!
The accordion is slowly emancipating, shedding its "light entertainment" image and claiming its right as a serious and valuable musical instrument. Its possibilities are enormous, its sounds and sonorities as varied as a church organ.
This new recording presents keyboard works by Frescobaldi and Gesualdo, works which were intended for either harpsichord or organ, and therefore may be played on any keyboard instrument. The realisation on accordion is fascinating in its fusion of both the harpsichord (its tactile precision) and the organ (its sustained polyphony).
Italian Francesco Gesualdi is one of the world's foremost accordionists. He commissioned works for his instrument with many contemporary composers, and is well connected with composers such as Mauricio Kagel, Sofia Gubaidulina and Wolfgang Rihm. Excellent and extensive liner notes are included in the booklet.
Track list
Disk 1
Toccata I in G Minor, F 3.01

Toccata II in G Minor, F 3.02

Toccata III da sonarsi alla levatione in D Major, F 3.03

Toccata IV da sonarsi alla levatione in A Major, F 3.04

Toccata VIII di durezze e ligature in F Major, F 3.08

Partite sopra l'aria della Romanesca, F 2.13

Canzon francese del principe

II Movimento – da Gesualdo per Gesualdi