Fauré: Complete Piano Quartets & Quintets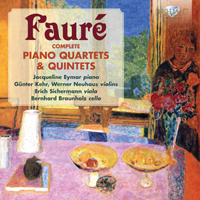 Composer
Gabriel Fauré
Artist
Jacqueline Eymar piano
Günter Kehr violin
Werner Neuhaus violin
Erich Sichermann viola
Bernhard Braunholz cello
Format
2 CD
Cat. number
94859
EAN code
5028421948591
Release
May 2014
About this release
This release brings together Fauré's Piano Quartets – including the much-loved C minor Quartet, surely Fauré's best-known chamber work – and the rarely performed or recorded Piano Quintets. Listeners who are most familiar with Fauré's music through his Requiem and other vocal works, or who may only know the C minor Quartet out of all his chamber repertoire, are urged to discover the less well-known chamber works here, as they are charming pieces that showcase the harmonic richness and melodic invention that are hallmarks of Fauré's style.

The Op.15 Quartet is an exquisitely crafted work, in which romantic, passionate melodies seamlessly fit into relatively strict classical forms. The first movement, in a concise sonata form, but displaying luxurious late-Romantic textures, is a case in point. This is followed by a vivacious Scherzo, a beautiful, songlike Adagio, and a boisterous finale that includes an astonishing succession of key changes. The Op.45 Quartet demonstrates a much bolder departure from the Classical tradition in terms of both structure and harmony. Some of its most striking moments include a mercurial, rhythmically inventive Scherzo and an evocative, deeply moving Adagio.

Fauré's Piano Quintets are both mature masterpieces and showcase how his musical language had evolved and become more experimental. Op.89 won great admiration from its dedicatee Eugène Ysaÿe, who called it 'absolute music in the purest sense of the word'. Op.115, dedicated to another eminent composer, Paul Dukas, dates from 1921, three years before Fauré's death, and could be said to represent the pinnacle of his art. Indeed, following its premiere in Paris, one reviewer wrote 'We had expected a beautiful work, but not one as beautiful as this.'

Other information:
- Recordings from the sixties (1966), sounding amazingly fresh and transparent.
- Reissue of one of the gems from the early VOX catalogue: Fauré 's complete piano quartets and quintets played by Jacqueline Eymar!
- Jacqueline Eymar (1922-2008), a pupil of Yves Nat, was one of the Grand Dames of the French piano school, together with Monique de la Bruchollerie and Yvonne Lefebure. Her style is elegant, perfectly natural, "inwardly" brilliant, playing the great French and German Romantics with exquisite taste and understanding.
- A superb set presenting the masterworks of Fauré's chamber music oeuvre, counting among his most frequently performed works.
- Booklet features extensive liner notes.
Track list
Disk 1
Piano Quintet in D Minor, Op. 89: I. Molto moderato

Piano Quintet in D Minor, Op. 89: II. Adagio

Piano Quintet in D Minor, Op. 89: III. Allegro moderato

Piano Quintet in C Minor, Op. 115: I. Allegro moderato

Piano Quintet in C Minor, Op. 115: II. Allegro vivo

Piano Quintet in C Minor, Op. 115: III. Andante moderato

Piano Quintet in C Minor, Op. 115: IV. Allegro molto
Disk 2
Piano Quartet in C Minor, Op. 15: I. Allegro molto moderato

Piano Quartet in C Minor, Op. 15: II. Scherzo. Allegro vivo

Piano Quartet in C Minor, Op. 15: III. Adagio

Piano Quartet in C Minor, Op. 15: IV. Allegro molto

Piano Quartet in G Minor, Op. 45: I. Allegro molto moderato

Piano Quartet in G Minor, Op. 45: II. Allegro molto

Piano Quartet in G Minor, Op. 45: III. Adagio non troppo

Piano Quartet in G Minor, Op. 45: IV. Allegro molto