Dvoràk: Complete Concertos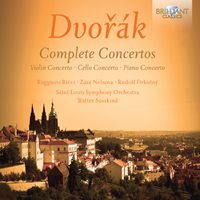 Composer
Antonín Dvorák
Artist
Ruggiero Ricci violin
Zara Nelsova cello
Rudolf Firkušný piano
Saint Louis Symphony Orchestra
Walter Susskind conductor
Format
2 CD
Cat. number
94938
EAN code
5028421949383
Release
August 2014
About this release
This wonderful two-disc set charts the progress of Dvořák's relationship with the concerto form over the course of his career, from the tentative but beautifully peaceful Piano Concerto of his early days to the masterwork that is the Cello Concerto, widely considered the greatest of all concertos for the instrument. This evolution was accompanied by a range of musical and personal influences: the concertos interact with Dvořák's other key pieces, such as his famous Slavonic Dances, showing snippets of his main musical preoccupations as well as his changing geographic location; and are testament to his important relationships with some of the star soloists of his day – such as the violinist Joseph Joachim or the cellist Hanuš Wihan – for whom he wrote most of the concertos.

Alongside Dvořák's most famous examples of the concerto form, we are also treated to less-known soloist-and-orchestra works, including the charming Romance in F minor and the dazzling Mazurek in E minor. The soloists in this collection are all veterans of their instruments who deliver exemplary performances, directed under the esteemed baton of Walter Susskind: "In these Dvorak performances his great gifts as accompanist to elite soloistic talents is abundantly evident – he was one of the great concerto conductors of his generation – and the soloists respond in diverse ways, emotional, technical, expressive to the differing demands of the concertos" (MusicWeb International).

Other information:
- The three solo concertos and smaller concertante works by Dvorak, on two CDs!
- In Dvořák's substantial symphonic oeuvre there are only three concertos, but each is a masterwork of its kind, frequently played and audience favourites.
- The Cello Concerto is the best and most popular in its genre, a dramatic and sweeping display of romantic passion, the Piano Concerto and Violin Concerto are strong and virtuoso works, with hints of the rich folklore of Dvořák's home country Bohemia.
- Reissue from the rich Vox catalogue, featuring excellent soloists of international fame: cellist Sara Nelsova, pianist Rudolf Firkusny and violinist Ruggiero Ricci.
Track list
Disk 1
Piano Concerto in G Minor, Op. 33: I. Allegro agitato

Piano Concerto in G Minor, Op. 33: II. Andante sostenuto

Piano Concerto in G Minor, Op. 33: III. Finale. Allegro con fuoco

Romance in F Minor, Op. 11

Mazurek in E Minor, Op. 49

Silent Woods, Op. 68 No. 5

Rondo in G Minor, Op. 94
Disk 2
Violin Concerto in A Minor, Op. 53: I. Allegro ma non troppo - Adagio ma non troppo

Violin Concerto in A Minor, Op. 53: II. Finale. Allegro giocoso

Cello Concerto in B Minor, Op. 104: I. Allegro

Cello Concerto in B Minor, Op. 104: II. Adagio ma non troppo

Cello Concerto in B Minor, Op. 104: III. Finale. Allegro moderato