De Visée: La Musique de la Chambre du Roy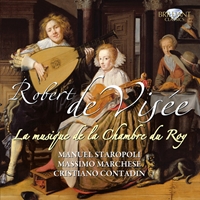 Composer
Robert de Visée
Artist
Manuel Staropoli recorder
Massimo Marchese theorbo
Cristiano Contadin viola da gamba
Format
1 CD
Cat. number
94154
EAN code
5028421941547
Release
April 2011
About this release
Little is known of Robert de Viseé (1655–1733). Even his birth and death places and dates are uncertain.What we do know is that this fine collection of Suites was published in Paris in 1716. It is, for its time and place, typically stylish music, often with a melancholy tinge.

The options available to a modern-day performer are wide, and our talented trio of Italian musicians here have opted for the most intimate possible scoring of recorder, theorbo and viola da gamba: a very French answer to the English viol consort, one might say. One contemporary manual advises would-be performers of such music: "If you want to play them completely, you will absolutely need a viola da gamba and a theorbo or a harpsichord, or both together."

The appetite for French music of the pre-Baroque era has never been higher: part of the early-music renaissance, naturally, and of its explosion on records, but also for the particular qualities of gentility, grace and elegance which this music embodies.

Other information:
- Includes booklet notes written by the artists.
- Repertoire currently unavailable.
- www.manuelstaropoli.com.
Track list
Disk 1
Suite in C: I. Allemande

Suite in C: II. Courante

Suite in C: III. Gigue

Suite in C: IV. Muzette, Rondeau

Suite in C: V. Gavotte

Suite in C: VI. Menuet, Rondeau

Suite in A Minor: I. Prelude

Suite in A Minor: II. Allemande: Grave

Suite in A Minor: III. Courante

Suite in A Minor: IV. Sarabande

Suite in A Minor: V. Gigue

Suite in A Minor: VI. Rondeau 'La Montsermeil'

Suite in D Minor: I. Allemande 'La Royalle'

Suite in D Minor: II. Courante

Suite in D Minor: III. Sarabande

Suite in D Minor: IV. Gavotte

Suite in D Minor: V. Chacone

Suite in D Minor: VI. Rondeau: Mascarade

Suite in D Minor: Les Sylvains de Couperin

Suite in G: I. Allemande

Suite in G: II. Courante

Suite in G: III. Sarabande

Suite in G: IV. Gigue

Suite in G: V. Menuet

Suite in G: VI. Chacone

Suite in G Minor: I. Allemande: Grave

Suite in G Minor: II. Courante

Suite in G Minor: III. Sarabande

Suite in G Minor: IV. Gigue

Suite in G Minor: V. Gavotte

Suite in G Minor: VI. Passaquaille