Beethoven: Complete Piano Concertos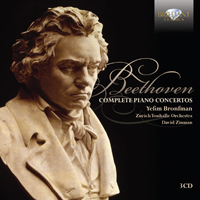 Composer
Ludwig van Beethoven
Artist
Yefim Bronfman piano
Tonhalle Orchester Zurich
David Zinman conductor
Format
3 CD
Cat. number
94856
EAN code
5028421948560
Release
August 2014
About this release
A virtuoso pianist of exceptional stature, Beethoven took Vienna by storm upon his arrival in the Austrian capital, eliciting such comments as 'He isn't a man, he's the devil himself!' by contemporary rivals. His expressiveness of playing was in fact responsible for ushering in a new era of the piano concerto, his eccentricity of ideas and hitherto unprecedented 'violence' of key changes creating a music that no longer found fulfilment merely in terms of beauty and originality, but which went the extra mile in now expressing a message. The five numbered piano concertos were written over a period of two decades, roughly between 1790 and 1809. 'With every new work,' comments conductor David Zinman, 'Beethoven discovered a new world […] They are entirely independent worlds that place different demands on performers.'

Beethoven's piano concertos have been committed to disc by some of the greatest names in music history, and as such any new recording is subject to the highest scrutiny. Yefim Bronfman, here in performances dating back to 2004 and 2005, rises to the challenge admirably, delivering consummate interpretations that combine commanding technique with exceptional lyrical skill. Of the 'Emperor' Concerto, Gramophone described the Soviet-born Israeli-American pianist's touch as 'light, precise though never brittle […], always phrasing elegantly and dipping his tone whenever important instrumental lines need to be heard', also commenting on how 'he, Zinman and the Tonhalle Orchestra form a warmly responsive partnership'. Voices are introduced into the equation with the Fantasia for piano, chorus and orchestra – a work whose variation figures foreshadow those of the much better known Ninth Symphony – before a fully-fledged transition into the choral repertoire, the compilation ending with the cantata Calm Sea and Prosperous Voyage.

Other information:
- The Beethoven Symphony cycle by the Tonhalle Orchestra Zurich conducted by David Zinman achieved somewhat of a cult status, first released on a budget label, later in full glory issued on Sony Classical. The same characteristics that distinguished the symphony cycle apply for this set of the complete piano concertos: warmth, clarity, drive and total commitment.
- The soloist is world famous pianist Yefim Bronfman, a virtuoso who is able to bring out the power and delicacies of these wonderful masterworks by Beethoven, which count among the most frequently performed works of the whole classical repertoire.
- As generous bonus this release features the Choral Fantasy and the Overture Meeresstile und glückliche Fahrt.
- Booklet includes detailed notes on the music.
Track list
Disk 1
Piano Concerto No. 1 in C Major, Op. 15: I. Allegro con brio

Piano Concerto No. 1 in C Major, Op. 15: II. Largo

Piano Concerto No. 1 in C Major, Op. 15: III. Rondo. Allegro scherzando

Piano Concerto No. 2 in B-Flat, Op. 19: I. Allegro con brio

Piano Concerto No. 2 in B-Flat, Op. 19: II. Adagio

Piano Concerto No. 2 in B-Flat, Op. 19: III. Rondo. Molto allegro
Disk 2
Piano Concerto No. 3 in C Minor, Op. 37: I. Allegro con brio

Piano Concerto No. 3 in C Minor, Op. 37: II. Largo

Piano Concerto No. 3 in C Minor, Op. 37: III. Rondo. Allegro

Piano Concerto No. 4 in G Major, Op. 58: I. Allegro moderato

Piano Concerto No. 4 in G Major, Op. 58: II. Andante con moto

Piano Concerto No. 4 in G Major, Op. 58: III. Rondo. Vivace
Disk 3
Piano Concerto No. 5 in E-Flat, Op. 73 "Emperor": I. Allegro

Piano Concerto No. 5 in E-Flat, Op. 73 "Emperor": II. Adagio un poco mosso

Piano Concerto No. 5 in E-Flat, Op. 73 "Emperor": III. Rondo. Allegro

Choral Fantasia in C Minor, Op. 80

Meeresstille und glückliche Fahrt in D Major, Op. 112