Beethoven, Franck: Sonatas for Cello and Piano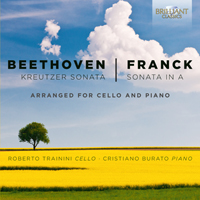 Composer
César Auguste Franck, Ludwig van Beethoven
Artist
Roberto Trainini cello
Christiano Burato piano
Format
1 CD
Cat. number
95191
EAN code
5028421951911
Release
January 2017
About this release
These are not modern arrangements of two classic violin sonatas but classic examples of the art of transcriptions, made by two superb French cellists in the last half of the 19th century. They cater less for the demand of amateur musicians for repertoire for domestic music-making – even in their originals, the sonatas lie somewhere beyond the technical level of all but the most accomplished performers – but for the growing number of professional cellists who sought more than showpieces for their recitals yet were understandably frustrated by the lack of substantial contributions to the cello repertoire by composers of their time.

The greatest Parisian cellist of his day, August Franchomme, arranged the 'Kreutzer' Sonata in 1867. It is among Beethoven's most ambitious pieces of chamber music, symphonic in scale. Reportedly, the first transcription for the cello was made by Carl Czerny, at the request of Beethoven himself. However, Czerny considerably simplified the most important virtuoso passages that had made this sonata a piece for seasoned musicians. Franchomme also made certain adaptations, inevitable when transcribing a piece of this complexity for a lower instrument, but he retained its sense of thrill and danger.

The cello version of Franck's sonata has been better known since Jules Delsart made it in 1888, two years after its original composition and two years before Franck's death. Great cellists including Maisky and Rostropovich have performed and recorded the sonata, but this pair of Italian musicians give it a new and enlightening context with the Beethoven sonata. This is Roberto Trainini's second recording for Brilliant Classics after his album of the cello sonatas by Bohuslav Martinu (BC94816).

This new recording presents two iconic violin sonatas in an arrangement for cello and piano.
Beethoven's Kreutzer Sonata and Franck's Violin Sonata are two undisputed masterpieces of the violin repertoire. Their power of structure, expression and imagination transcends their mere instrumental restrictions, their human message stands above the musical matter. The arrangement for cello and piano sheds a new light on the music, enriching and enhancing its dark and dramatic atmosphere, while giving a new dimension to their lyrical and ethereal sections.
The Beethoven arrangement is by the famous 19th century cellist Franchomme (also dedicatee of Chopin's cello sonata), the Franck arrangement is by Jules Delsart, with permission of Franck himself.
Beautiful and heartfelt performances by Roberto Trainini and Cristiano Burato, who already successfully recorded cello sonatas by Martucci for Brilliant Classics (BC94816).
Track list
Disk 1
Violin Sonata No. 9 in A Major, Op. 47: I. Adagio sostenuto. Presto

Violin Sonata No. 9 in A Major, Op. 47: II. Andante con variazioni

Violin Sonata No. 9 in A Major, Op. 47: III. Finale. Presto

Violin Sonata in A Major, FWV 8: I. Allegretto ben moderato

Violin Sonata in A Major, FWV 8: II. Allegro

Violin Sonata in A Major, FWV 8: III. Recitativo-Fantasia. Ben moderato

Violin Sonata in A Major, FWV 8: IV. Allegretto poco mosso