Bartók: Complete Works for Violin, Vol. 3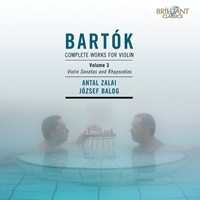 Composer
Béla Bartók
Artist
Antal Zalai violin
József Balog piano
Format
1 CD
Cat. number
9276
EAN code
5029365927628
Release
February 2013
About this release
The third instalment of this survey of Bela Bartók's output for violin offers the two violin sonatas and the two rhapsodies. The sonatas, masterpieces of immense complexity and difficulty, show Bartók from his most austere, uncompromising side, whereas the rhapsodies abound in tuneful melodies of a folk-like nature, brilliant and virtuosic.

In the first half of the 20th century, Béla Bartók was one of the principal ambassadors of Hungarian music. He was influenced by the folk music of Eastern Europe and strove to break the confines of the traditions of Western Classical music, in order to create harmonies, rhythms and performance practices that were more relevant to his turbulent era.

While the two sonatas differ in their relation to the Classical model, the influence of Eastern Europe can be heard in both: the arpeggios at the beginning of No.1 imitate the sound of the Hungarian cimbalom, and there is evidence of Hungarian folk music in its dance-like finale as well as in the hor lunga-style melody of the Romanian peasant music in No.2, which recurs several times throughout the piece. The two Rhapsodies similarly share the influence; the slow 'Lassú' movement of No.1, for example, uses an exotic Transylvanian melody followed by a much more cheerful 'Friss' movement. Exoticism returns in the 'Lassú' of No.2, combined with a hint of melancholy, which is counteracted by the riotous dance of the 'Friss' thanks to its improvisatory nature and use of six separate tunes.

The disc features Antal Zalai, praised by Igor Oistrakh as 'an exceptional violinist who has a perfect technique, beautiful large tone, real musical finesse and maturity as well as a noble personality'. Joining him is József Balog, one of the most celebrated pianists of his generation and winner of the 2005 Annie Fischer Award. Both received praise for their earlier recordings in this series: "intensely expressive..zest, purity and elegance…clear recorded sound…recommended.."(Fanfare).

Other information:
- New recording (2012)
- Contains liner notes by Malcolm McDonald
- Contains artist biographies.
Track list
Disk 1
Rhapsody No. 1, Sz. 86: I. 'Lassú': Moderato

Rhapsody No. 1, Sz. 86: II. 'Friss': Allegretto moderato

Violin Sonata No. 2, Sz. 76: I. Molto moderato

Violin Sonata No. 2, Sz. 76: II. Allegretto

Rhapsody No. 2, Sz. 89: I. 'Lassú': Moderato

Rhapsody No. 2, Sz. 89: II. 'Friss': Allegro moderato

Violin Sonata No. 1, Sz. 75: I. Allegro appassionato

Violin Sonata No. 1, Sz. 75: II. Adagio

Violin Sonata No. 1, Sz. 75: III. Allegro