Bartók, Ghedini, Rota, Hindemith: Music for String Orchestra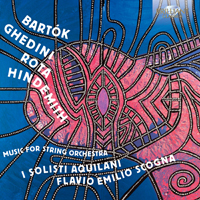 Composer
Béla Bartók, Nino Rota, Paul Hindemith
Artist
Il Solisti Aquilani
Flavio Emilio Scogna conductor
Format
1 CD
Cat. number
95223
EAN code
5028421952239
Release
July 2016
About this release
A rare collection of recordings featuring some of the finest examples of the neo-Classical school, this release brings together a collective of high-calibre string players and some exciting young soloists under the guidance of globally renowned conductor Flavio Emilio Scogna. Together they interpret some of the most emotionally complex and technically demanding works written for string orchestra in the 20th century.

The two Italians represented here are equally sophisticated in their treatment of the ensemble: the mysterious, macabre Allegro moderato e spiritoso gives way to the spritely, dynamic interplay of soloist and ensemble of the Rondo: Vivace con brio in Ghedini's Concerto for violin and strings. Rota, whilst better known for his film scores, displays all the provocative simplicity and stylistic versatility of his orchestral and chamber works in his Concerto for strings; the Scherzo and Finale teem with references to European folk music. The three movements from Bartók's Divertimento similarly contain clear allusions to Romanian folk music, but come from his more tonally grounded period, the utterly danceable Allegro non troppo and Allegro assai contrasting with the dark and moody Molto adagio. Like Bartók, Hindemith wrote his Trauermusik under the looming threat of global conflict and the composer's music from this period demonstrates appropriately melancholic attributes. Written in only six hours after the death of King George V, the beautiful solemnity and understatement of this work is a fitting tribute both to the King and Hindemith's style of the time.

This highly attractive new recording presents 4 20th century masterworks for string orchestra: Bartók's Divertimento, Ghedini's Violin Concerto Il Belprato, Rota's Concerto for Strings and Hindemith's Trauermusik for viola and strings.
Although very different in character and emotional impact the 4 works share the Neo-classical style, the principles of baroque and classical forms and grammar, infused with 20-th century elements like polyrhythms, atonality and folkloristic influences.
The Italian elite ensemble I Solisti Aquilani play with great imagination and instrumental freedom, while maintaining a strong and homogeneous ensemble discipline. Contains extensive notes in Italian and English.

Contains biographies of the artists.
Recorded in Italy in 2015.
Track list
Disk 1
Divertimento, Sz. 113: I. Allegro non troppo

Divertimento, Sz. 113: II. Molto adagio

Divertimento, Sz. 113: III. Allegro assai

Concerto for Violin and Strings, "Il belprato": I. Allegro moderato e spiritoso

Concerto for Violin and Strings, "Il belprato": II. Andante fiorito

Concerto for Violin and Strings, "Il belprato": III. Rondò. Vivace con brio

Concerto for Violin and Strings, "Il belprato": IV. Molto adagio

Concerto for Violin and Strings, "Il belprato": V. Quasi presto

Concerto for Strings: I. Preludio. Allegro ben moderato e cantabile

Concerto for Strings: II. Scherzo. Allegretto comodo

Concerto for Strings: III. Aria. Andante quasi adagio

Concerto for Strings: IV. Finale. Allegrissimo

Trauermusik: I. Langsam

Trauermusik: II. Ruhig bewegt

Trauermusik: III. Lebhaft

Trauermusik: IV. Choral. "Vor deinen Thron tret ich hiermit"