Adam: Giselle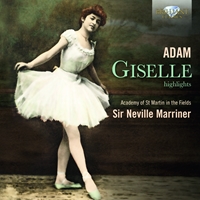 Composer
Adolphe Adam
Artist
Academy of St-Martin-in-the-Fields
Sir Neville Marriner conductor
Format
1 CD
Cat. number
94354
EAN code
5028421943541
Release
August 2012
About this release
Premiered in 1841, Adolphe Adam's Giselle stands as one of the most important French dance creations – a rare masterpiece of lyric theatre that is particularly renowned for the extraordinary beauty of its music.
This compilation is dedicated to highlights of the fantastical ballet, performed by one of music's most iconic conductor-orchestra partnerships: Sir Neville Marriner and the Academy of St Martin in the Fields.

Set in Rhineland in the Middle Ages, the work takes its name from the peasant girl Giselle, who falls in love with a young Duke as he wanders the German landscape. Complications arise when we discover that
Albrecht, who has passed himself off as a simple lad to Giselle, is already engaged, and after his fiancée Bathilde arrives to confirm this, the peasant girl dances herself into madness and dies. In the second act,
the scene shifts to the spirit world of the Wilis – vengeful ghosts of brides who, jilted before their wedding day, prey on young men by dancing them to their death. Although Hilarion, a long-standing admirer of Giselle, falls victim to their enchantment, Giselle – now herself a Wili – uses her love for Albrecht to protect him from the same fate. Realising that she has saved him, Albrecht breaks down into tears at her grave.

Adam was a prolific ballet writer at the height of his powers when composing Giselle, and his innate feeling for dramatic progression is perfectly mirrored in the work's wealth of orchestral colour – which ranges from brilliantly sparkling to darkly dynamic, according to the developments on stage. Paying close attention to the ballet's individual instrumental sonorities, Marriner brilliantly evokes the dichotomy between everyday life and the otherworldliness of the second act to deliver a first-rate performance of this iconic work.

Other information:
- Recorded November 1994 in the Church of St Jude on the Hill, London.
- Liner notes in English and German.
Track list
Disk 1
Giselle highlights: First act: Introduction

Giselle highlights: First act: Les vendangeurs

Giselle highlights: First act: Entrée du Prince

Giselle highlights: First act: Loys seul et entrée de Giselle - Scène d'amour

Giselle highlights: First act: Retour de vendangeurs – Valse

Giselle highlights: First act: Pas de deux

Giselle highlights: First act: La Chasse

Giselle highlights: First act: Marche des vignerons

Giselle highlights: First act: Variation de Giselle

Giselle highlights: First act: Final

Giselle highlights: Second act: Apparition des faux follets

Giselle highlights: Second act: Apparition et scène de Myrthe

Giselle highlights: Second act: Apparition de Giselle

Giselle highlights: Second act: Entrée de Loys - Pas de deux

Giselle highlights: Second act: Scène des Wilis

Giselle highlights: Second act: Grand pas de deux

Giselle highlights: Second act: Variation de Loys

Giselle highlights: Second act: Variation de Giselle

Giselle highlights: Second act: Final